Atop his 52-metre high column, one-armed Admiral Horatio Nelson looks down on four plinths, one at each corner in Trafalgar Square – one of the most visited attractions on the tourist's itinerary.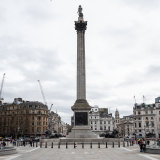 Bronze statues stand on three of them: General Sir Charles James Napier (British general and Commander-in-Chief in India so plenty of room for controversy there) in the south-west; Major General Sir Henry Havelock (British general associated with the recapture of Cawnpore during the Indian Rebellion of 1857) in the south-east; and King George IV (indulgent lifestyle, liked a drink) in the north-east.
The fourth plinth on the north-west corner was intended to hold an equestrian statue of William IV but remained empty due to insufficient funds. In 1998, the Royal Society for the encouragement of Arts came up with the Fourth Plinth Project, which temporarily occupied the plinth with a succession of temporary artworks.
The idea caught on and became, as it were, set in stone in 2005. The Fourth Plinth Commission, led by the London mayor's culture team, is made up of specialist advisers appointed to guide and monitor commissions.
Loading
Londoners have marvelled at a giant marble torso of a pregnant Alison Lapper, an artist born with no arms and shortened legs. Next was a replica of Nelson's ship, HMS Victory, with sails in a colourful African pattern inside a five-metre large glass bottle complete with cork.
Then 2400 selected members of the public each spent one hour on the plinth, allowed to do what they liked carrying unaided whatever they chose to take. There's been a skeletal riderless horse. A dollop of cream is planned.
Surely Sydney's lord mayor could find space for such a project? Perhaps a suitable location might be the area near George Street once intended for the Cloud Arch sculpture?