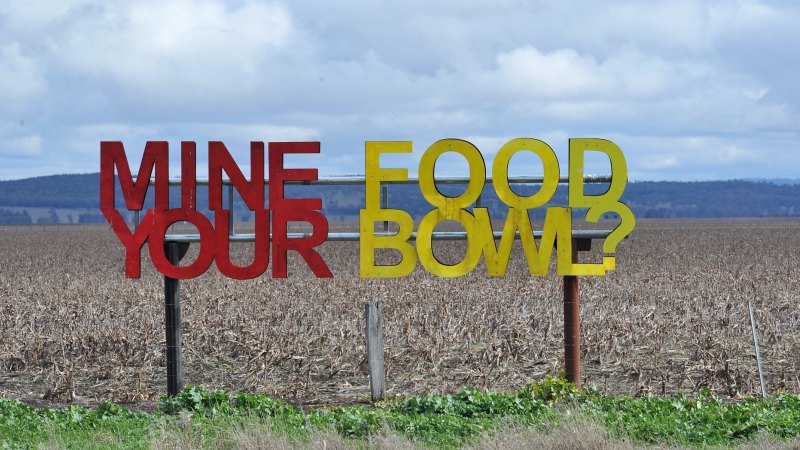 That means if the coal pit is dug and water seeps in, it will come from the same bucket as farmers' bores. "The mine could cause significant drawdown of many metres," said Professor Acworth, a hydrologist with 45 years experience and Emeritus Professor in University of NSW's School of Civil and Environmental Engineering.
Loading
The data was obtained by the Caroona Coal Action Group and Professor Acworth in November last year when they accessed monitoring bores of an abandoned BHP mine project on the Liverpool Plains, which had more than four years of readings updated every six hours.
"Boreholes [drilled in 2007] clearly show the presence of the channel directly to the south of the proposed [Shenhua] pit… It is impossible to ignore the probable impact of dewatering the pit and the connectivity to the immediately adjacent alluvial groundwater system," said Professor Acworth's report, which has been sent to NSW Planning Minister Rob Stokes.
Professor Acworth said "the presence of the old river channel is clear from existing data" and the "company's modelling cannot explain the observed data".
He said Shenhua's environmental impact statement, the key document for the state's approval of the project, "must be revisited".
Caroona Coal Action Group spokesperson and local farmer Susan Lyle said Professor Acworth's findings "prove what we've said all along".
"Water is the most important thing in the world and why would you want to damage it for a 30-year mining whim. The only thing you can't grow on the Liverpool Plains is prawns and oysters," Ms Lyle said.
Professor Acworth questioned how BHP's "highly significant" bore data, which was accessible to the government, was not factored into Shenhua's environmental impact statement – and the various high profile inquiries under NSW's Planning Assessment Commission and the federal government's Independent Expert Scientific Committee.
Loading
"There is no mention of the presence of the old channel of the Mooki River. This is disturbing. How can it have been missed by so many?," he said.
In July 2017 NSW government cut a deal with Shenhua to buy half the exploration tenement for $262 million, which the company had already ruled out for mining activity.
A spokesperson for the Department of Planning said "there is no avenue for [Shenhua's] assessment to be revisited" and its approval requires "any water impacts to be monitored and managed to meet clear performance objectives".
The federal government is yet to approve water and biodiversity plans that must be signed off by Environment Minister Sussan Ley.
Shenhua and NSW Planning Minister Rob Stokes were contacted for comment.
Mike is the climate and energy correspondent for The Age and The Sydney Morning Herald.