The other males ran from the scene and six were arrested nearby a short time later on Billingham Road.
Witnesses told Nine News that some members of the group were carrying knives and baseball bats and stabbed the teen multiple times in the chest and stomach.
Foa Galuega, a family friend of the victim, said the dead boy was a "good kid" who went to church.
"He comes from a good family and humble family but it's just so unfortunate that this has happened to him," she told Nine.
Ms Gualuega said the fight broke out over an online conflict.
"I think it's all got to do with social media and bullying and things that they say online and they came after him," she said.
A friend of the victim said he tried to intervene in the fight.
"We came and pushed them off and then it was too late because he already got stabbed," he said.
Bystanders told Nine how they applied pressure to the boy's wounds before an ambulance arrived.
Paramedics worked to resuscitate the teenager before he died.
A number of people were on scene at least four hours after the stabbing before a second brawl broke out about 7.30pm.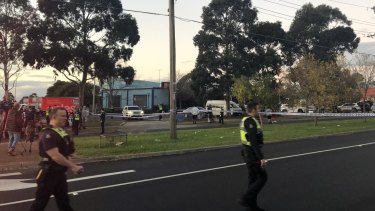 An ABC reporter filmed dozens of people running into the taped off crime scene screaming.
A voice can be heard in the footage shouting, "I'll kill you" while bystanders yell, "stop".
Three males were arrested in relation to the second brawl and were being interviewed at 9pm on Tuesday night.
A crime scene remains at the shopping centre where homicide detectives continue their investigation into the circumstances surround the boy's death.
Anyone with information is urged to contact Crime Stoppers on 1800 333 000 or make a confidential report at www.crimestoppersvic.com.au
Rachael Dexter is a breaking news reporter at The Age.