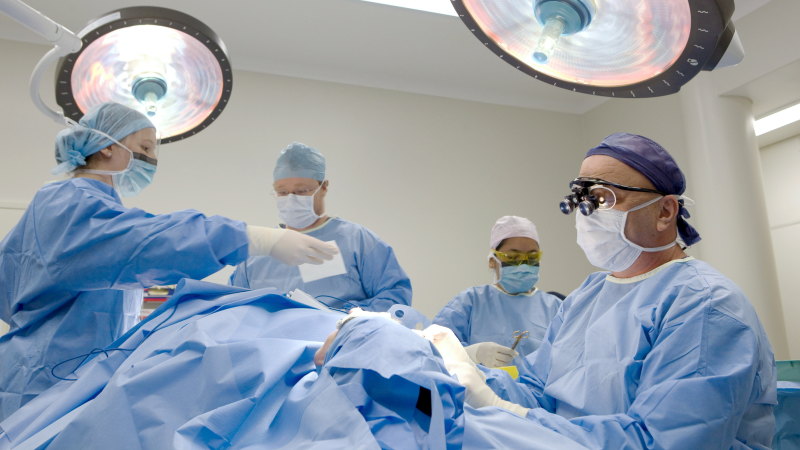 "Initially, doctors were willing to put their hands up and muck in, like everyone has had to in a crisis, and were performing surgeries at public rates, but usually these doctors would have a mix of public and private work to sustain their roles."
Royal Australasian College of Surgeons NSW chair Payal Mukherjee said surgeons must receive fair compensation if governments wanted their help to reduce the public waiting list.
"For some operations, the schedule fee is only $200 or $300," Associate Professor Mukherjee said. "It hasn't been updated in 30 years."
The amounts were thousands of dollars below the private rates charged for many procedures, she said.
Dr McMullen said surgeons were not prepared to participate in "a broad expansion of clearing public surgery in private hospitals at public or less than public rates".
While private hospitals are obliged to take on public work up until September as a condition of federal and state governments' $2.6 billion viability guarantee, which aimed to compensate for lost income from cancelled surgeries, it is up to surgeons whether they will agree to take on the work.
Australian Private Hospitals Association chief executive Michael Roff said while private hospitals were "doing what they can", they did not set doctor fees.
Under the viability agreement, the state government is only required to pay surgeons the Medicare benefits schedule fee for catch-up surgeries on the public waiting list.
Dr McMullen said state governments should invest in expanding operating theatres in public hospitals, hire more surgeons and anaesthetists and increase the number of surgeries on their lists.
Mr Roff said physical distancing was also limiting the planned return to 100 per cent capacity in private hospitals, where patients now expected to be kept apart from each other and operators were wary of potential liability if COVID-19 spread in their facility.
"We can't go back to the way things were," he said.
NSW opposition health spokesman Ryan Park on Wednesday called on the state government to extend operating hours to hasten the elective surgery blitz.
But Australian and New Zealand College of Anaesthetists President Dr Vanessa Beavis warned this could put patient safety at risk, saying a "long term, sustainable plan" was needed for catching up on elective surgery.
Loading
A NSW Health spokeswoman said the department would employ "a range of strategies, including delivering more surgery in private hospitals, increasing theatre days and lists, and conducting procedures in more facilities across the state" to tackle the waiting list.
Official data released this week showed the NSW public elective surgery waiting list had already hit 90,000 in March, before the elective surgery ban.
Research by the international CovidSurg project, published in the British Journal of Surgery last month, estimated more than 400,000 elective surgeries were cancelled in Australia due to COVID-19 restrictions.
An analysis by the Sydney Morning Herald and The Age shows this would have added about 120,000 people to public hospital waiting lists, including about 36,000 in Victoria and about 32,400 in NSW.
Dana is health and industrial relations reporter for The Sydney Morning Herald and The Age.