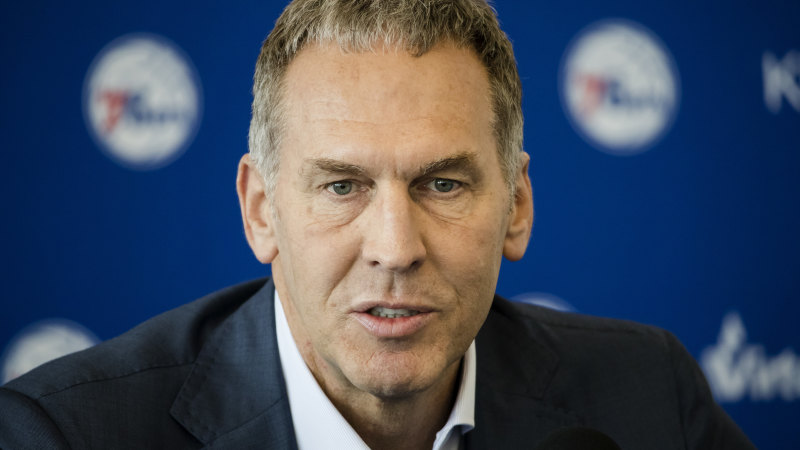 "We also understand the importance of creating a successful environment on the court as well as off it and want to make sure we are selling out all of our games at WIN Entertainment Centre."
Kordahi forecast an extra match or two being taken to Canberra and believes expanding the reach of the Hawks' brand into the greater NSW region will prove critical to the success of the new ownership structure.
The other eye-catching element of the new Hawks ownership is a man heavily involved in that structure – Bryan Colangelo.
For those not familiar with the NBA, Colangelo made headlines around the world in 2018 when he was general manager of the Philadelphia 76ers.
American sports and pop culture website The Ringer revealed an elaborate string of as many as five Twitter "burner" accounts which were used to criticise predecessor Sam Hinkie and players on the team – including superstar centre Joel Embiid.
Loading
The article pinned Colangelo as the man behind the accounts but, after an investigation by he 76ers, it was revealed his wife, Barbara Bottini, had set up three accounts that had leaked potentially sensitive information.
Colangelo resigned as a result of the investigation but was eventually cleared of wrongdoing, according to Kordahi.
"He was aware of what could happen [when buying a stake in the Hawks] and the media that would come out. It was always going to happen," Kordahi said.
"But you just can't hide behind anything. It is what it is and the media can take whatever they want to take and write what they want to write. He was cleared, there was no wrongdoing and he has to live with it. He understands that."
Colangelo will take up an advisory role along with his ownership stake. Kordahi believes his 30-year career in the front offices of NBA teams will provide valuable links to both the US and Europe as the Hawks strive to climb out of the NBL cellar.
"He has had a long history within the NBA. He has done a lot of things – a lot of great things – that, from my end, meant we weren't looking at one, small incident that he was then cleared on," Kordahi said.
"We're looking at the positives of what he has contributed to the NBA and what he has done for basketball in general."
Sam is a sports reporter for The Sydney Morning Herald.