Watters coached McEvoy at St Kilda in 2012 and 2013 and was full of praise for the dual premiership Hawk's character and ability to mark the ball at either end of the ground, also noting that McEvoy is an exceptional set shot for goal.
With shorter quarters this season, clubs have been led to reconsider their ruck formations, with a "horses for courses" approach flagged by several coaches.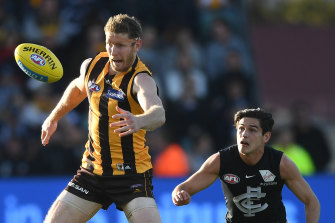 Watters said McEvoy had what it took to make it as a key defender but that ultimately the Hawks would be better served with only one of him and Ceglar in the side.
"Every coach in the AFL right now is being really challenged around what their ruck combination looks like," Watters said on Wednesday.
"I think there's not enough difference between Ceglar and Ben McEvoy, to have them both in the side. They're trialling it to see if it works, but it wouldn't surprise me if longer term the decision is made that you can only play one. [Clarkson] has two players for one-and-a-half roles."
Watters said he expected McEvoy would be taking on the challenge diligently.
"Ben has character in spades. He's such an outstanding individual. So to take on that responsibility, but also to be brave enough to pivot his role from where he spent most of his career, and all of a sudden take on a key defensive position, I think he's got the right attitude to do that," said Watters, who now runs the LifeChanger Foundation youth charity.
"His best role to me, is still being that ruckman that can actually come back in the back half. Out of necessity, can he play that key position defensive role with confidence? I think he can.
Loading
"[But] personally I think his best role is playing as a ruckman, and I still think he's the best ruckman on Hawthorn's list."
However, Clarkson indicated the Hawks would persevere with their current set-up.
"McEvoy's played in that role probably four times at AFL level and three of the games he's done particularly well and last week it didn't work for us," Clarkson said.
"That wasn't because of McEvoy – he actually didn't play terribly badly. Our midfield got smashed and the supply that went in there was overwhelming.
"But we played a really good side in Brisbane in round one and McEvoy played in that role and did really well.
"We'll see how it pans out over the course of the year, but we're going to stick with it for a period of time and see how it goes."
Hawthorn football department chief Graham Wright told the club's website that the Hawks were eager to respond from last week's defeat.
"I think the short, six-day break between games has helped us and the boys are really hungry to put it in a strong effort this week," Wright said.
"Hopefully we can do our members and supporters proud with a strong response this week."
Daniel is an Age sports reporter