Mr Morrison said he saw a "ray of light" in the figures but, if so, it is the faintest flicker. Perhaps he means that the Australian Bureau of Statistics collected the data prior to May 30 and before many of the lockdown measures had been relaxed. He may be right that some jobs will return as lockdown eases. But it seems likely more jobs will not.
International borders are very unlikely to reopen this year, which will postpone a recovery in tourism, hospitality and tertiary education sectors – all huge employers, especially of women.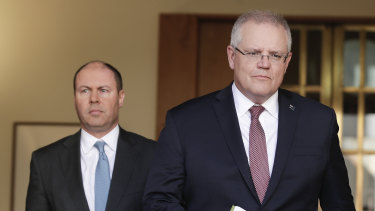 The sharp fall in new immigrants – which has stalled population growth – will also hold back the economy for some time. In fact, there was a net outflow of 30,280 non-tourists in the period from March to May compared with a net inflow of 23,000 in the same period in 2019.
Without demand from new migrants, a glut of empty apartments will make it uneconomic for builders to embark on new projects, despite the government's HomeBuilder package.
Mr Morrison once hoped the economy would snap back after the pandemic; he now says it will take five years for the economy to get completely back on track. This smacks of fatalism. This is a recession we probably could not have avoided but its length and severity will depend on economic policy.
The government should take the advice of the Reserve Bank of Australia and deploy more fiscal stimulus to speed up recovery.
Mr Morrison is right to be wary about going too deep into debt and wasteful spending. He is right to warn that he cannot continue to support zombie businesses indefinitely and that badly designed wage subsidies can give some workers a reason not to work. He is also right to look for long-term ways of boosting productivity.
But until the private sector revives and confidence returns, government spending is the only way to create growth and jobs.
Loading
Urgent action is required. The economy could fall into a much deeper hole in October after the expiry of the first round of stimulus measures, such as the JobKeeper and JobSeeker payments, the one-off withdrawals from super accounts and the holidays on mortgage repayments.
The government should now focus on how further stimulus should be delivered, whether it be by adjusting and extending JobKeeper and JobSeeker or through more investment in useful job-creating projects, such as social housing and renewable energy, or some other way.
The jobs figures should convince the government that it has no choice but to spend more.
Since The Age was first published in 1854, the editorial team has believed it important to express a considered view on the issues of the day for readers, always putting the public interest first. Elsewhere, we strive to cover a diversity of views without endorsing any of them.