"It's hard to keep a team down for along long period of time. We didn't have enough resolve in the game last week but there was resolve there tonight."
Clarkson had been highly critical of his midfield last week, but they responded with improved effort around the ball, and the inclusion of Jaeger O'Meara.
"We are pleased with our effort right across the ground whether it was around the contest or forward or back, we competed in the air and at ground level and made it difficult for Richmond to move the ball as well as they usually do," Clarkson said.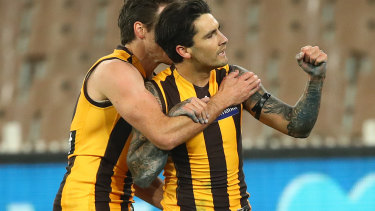 "It's only the last quarter when we fatigued a bit and couldn't sustain that manic pressure but that is the hard part of the game you have got to do it for the whole four quarters.
"The first three quarters we caused Richmond enough concern they couldn't get their forward ball movement going to score as freely as they usually do."
Clarkson said the long lay off between round one and round two had taken the competitive edge off his players and they were vastly improved and ready on Thursday night at the MCG more than they had been last Friday night in Geelong.
"You saw a different Hawthorn side tonight, you saw intent, resolve, resilience in tackle, resilience when we were challenged because Richmond will always come at you. We were just so much better prepared for the contest," he said.
"Part of that is to do with the players, part of that is to do with me, part is to do with our club, we just needed to be better than we were last week and to the credit of the players and the club we got it right."
He said the wider MCG compared to Kardinia Park last week was not a significant factor.
"I don't think footy has got much to do with ovals and that stuff it has got to do with competitive instinct and I might seem like I am harping on it but we had it tonight and we didn't win last week, if you have got it you will win on any shaped ground."