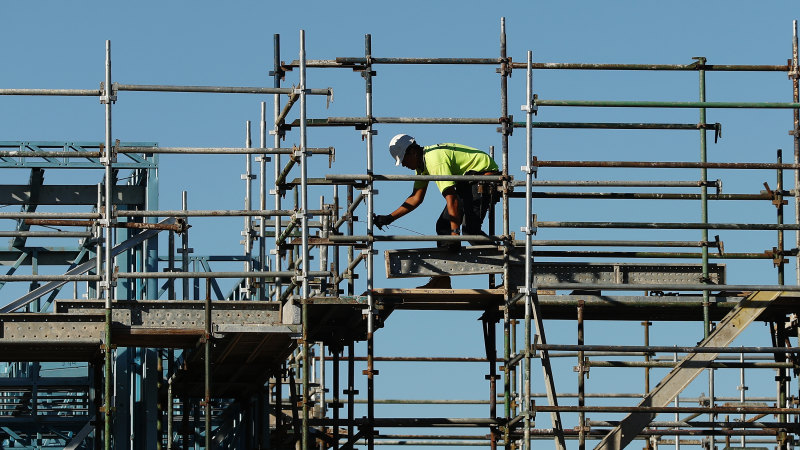 Of the 63 labour hire construction businesses audited last year by the commission, 79 per cent were found to be in breach of industrial laws. This included not paying workers correctly, not keeping proper records and not giving workers pay slips. Sixty-four per cent had underpaid workers.
Loading
Commissioner Stephen McBurney said the breaches were alarming.
"We expect employers and let's be honest, sophisticated employers – their business is labour hire – … to get the payment terms and conditions and allowances right," Mr McBurney said.
But he said it was not in the public interest to name them because it might impede repayments and they had co-operated with the ABCC and fixed the issues.
"These employers provided that full rectification and full co-operation and that's really what sets this apart from the other cases that I run," he said.
Dave Noonan, the union's national construction secretary, said the ABCC's decision not to pursue fines or name wrongdoers showed it was not enforcing the law properly against employers.
"If this was a union, the ABCC would be going after them with all their powers, when it is multiple employers breaching the law they express their 'disappointment'," Mr Noonan said.
"The so-called watchdog is a rottweiler when it comes to workers and a shitzu when it comes to the wage thieves of the labour hire industry."
Most of the breaches the commission found were relatively small, though the largest single underpayment totalled $19,000. The underpayments were caused by employer failings including not paying minimum shifts lengths, not paying commuting allowances and not updating wages when the minimum wage rose.
Loading
Charles Cameron, the chief executive of industry body Recruitment, Consulting and Staffing Association of Australia & NZ, said it was concerned by the findings and agreed labour hire firms should be beyond reproach when it came to simple award compliance.
"Awards can be very complex but the examples cited by the ABCC in this report are not examples of complex clauses and therefore we encourage construction firms to undertake more due diligence on which firms they work with," he said.
Denita Wawn, chief executive of Master Builders Australia, thanked the ABCC for its work.
"This news further cements the ABCC as an important regulatory institution in our industry and the industrial relations landscape," Ms Wawn said.
The Turnbull government established the ABCC over Labor and union opposition in 2016 after a double-dissolution election.
Get our Morning & Evening Edition newsletters
Nick Bonyhady is industrial relations reporter for The Sydney Morning Herald and The Age, based between Sydney and Parliament House in Canberra.