New Zealand Prime Minister Jacinda Ardern said the fatal shooting of the unarmed police officer was "devastating".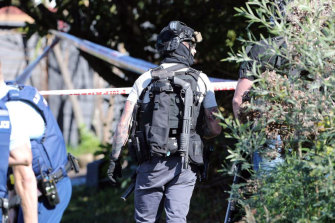 "Our police officers work hard every day to keep us and our communities safe," Ms Ardern said.
"To lose a police officer is to lose someone working for all of us, but also a family member, someone's loved one and friend. My condolences go to them and to their police whanau [extended family]."
Addressing media on Friday afternoon, Police Minister Stuart Nash said it was "absolutely devastating news" and "not what any of us expected to be doing today".
"It appears to have been a routine traffic stop, one of 3250 callouts made every day," he said.
"This was a man who dedicated his career to keeping us safe … we are absolutely gutted."
In an earlier statement on Friday, Nash said they were "heartbroken" for the family and colleagues of the officer who died.
"We want all our police officers to get home safely at the end of every working day," he said. "This is a tragic day for our police family."
"In the history of New Zealand policing since 1890, 22 officers have been shot and killed on duty, most recently Senior Constable Len Snee in Napier in 2009. Since 2002, 15 officers have been wounded by firearms.
Police Commissioner Andrew Coster said a long-barrelled firearm was used by the offender. Police earlier confirmed the offender had opened "fire on our staff".
President of the Police Association Chris Cahill said his thoughts were with the families of both officers.
"Policing involves all sorts of activities, but there is always some risk."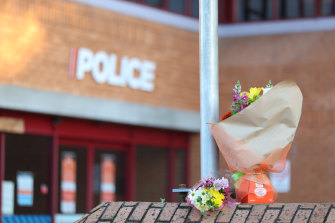 Cahill said there was still debate on whether this incident strengthened the call to arm police.
"Clearly that will be a debate, but that's a debate for the future. It's really important we take time to understand what's happened, before that debate is held," he said.
A large number of armed officers searched the area earlier and cordons were put in place and schools in the immediate area were locked down.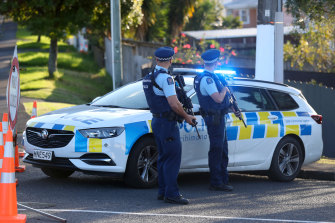 Resident Justin Nicholas said he heard five or six gunshots in quick succession before he saw police storming up the road.
"It was pretty scary."
Eric Lew, who lives nearby told TVNZ, he heard a noise and "bang, bang, bang three times" before he saw police and ambulances.
Neighbour Rick Thorburn heard multiple gunshots and said he saw two people running from the scene and jumping a fence.
Thorburn believed he heard someone open fire and another "return fire".
Janelle Blackmoore, a volunteer gardener, also believed more than one firearm was used in the incident.
Another witness said they saw two men in a silver Mazda Demio speeding from the scene immediately after hearing shots.
Officers escorted a distressed young woman and a young man from the scene to a waiting police car shortly after noon. They accompanied police willingly.
Gun crime remains relatively rare in New Zealand, where laws have been tightened twice since a terrorist killed 51 Muslim worshippers in Christchurch last year in the country's worst peace-time mass shooting. New gun control laws we enacted shortly after banning the deadliest types of semiautomatic weapons.
On Thursday Parliament passed legislation to create a new firearms registry that licence holders will be required to update as they buy or sell guns.