Matthews reached the final rounds of CA's hunt to replace James Sutherland as CEO in 2018 before Roberts was appointed. The 60-year-old is the nation's most-capped female Test player and one of three women in the world to hold a CEO position at a first-class cricket association.
"We are very fortunate in Australian society to have a lot of incredibly aspirational and high-leading women in various leadership roles across various organisations and businesses," Perry said. "Certainly I think if she is given the role, she will do a great job and a lot of people will be incredibly proud of her."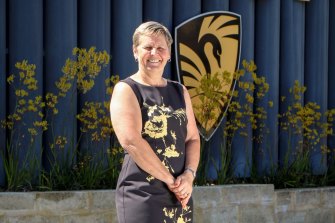 On Thursday, Justin Langer also backed Matthews as a CEO candidate. She was a huge factor in the national coach's development.
Matthews hired Langer as coach of Western Australia and the Perth Scorchers in 2012, starting a partnership that successfully tackled what the latter described at the time as a "culture problem". It was also the move that paved the way for Langer to replace Darren Lehmann as national coach in 2018.
"She's a good mate of mine," Langer said. "I'll be biased. She was a great supporter of mine in WA cricket. We formed a great alliance.
"She was a great operator. She's honest, incredibly hard-working. She's a bright lady. I've got nothing but praise for her."
Nick Hockley was named CA's interim chief executive following Roberts' departure, with 40 jobs recently lost at the organisation due the fallout from COVID-19.
Roberts followed Todd Greenberg (NRL) and Raelene Castle (Rugby Australia) as the third CEO of a major Australian sporting code out of the door in the past two months amid the pandemic.
Loading
Prior to Roberts' departure, Hockley served as chief executive of the Twenty20 World Cup. Perry praised his long-term vision for female cricket.
"He came and presented a pretty amazing vision four years ago about selling out the MCG for the final and I think that was quite aspirational at the time, he's a wonderful representative of the game," she said.
Fears the women's game might be diminished as part of a cost-cutting restructure to deal with the impact of COVID-19 were allayed this week. The CA board has confirmed a full summer schedule will be retained.
with AAP
Sarah is a journalist for The Sydney Morning Herald.