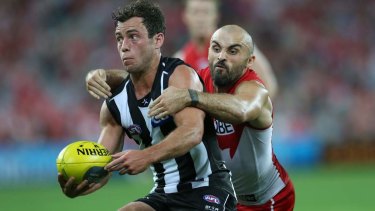 Shaw, who was given the North job full-time after an impressive run as the caretaker, played under three senior coaches but it was with Longmire that he climbed the pinnacle in the Swans' 2012 premiership.
Their relationship dates back to late 2008 when Shaw left the club his family name is synonymous with, Collingwood, for Sydney, and continued into retirement when he joined Longmire's coaching staff.
"I really appreciated the phone calls he gave me but that all goes out the window tomorrow," Shaw quipped.
Shaw is mindful he needs to stick to his own philosophies when it comes to coaching but there is more than a trace of red and white in the 2020 version of Shinboner Spirit.
Under the 237-gamer, North have become a rugged and uncompromising team that revels in hand-to-hand combat. Just ask the Giants, who failed to match the Kangaroos' aggression.
"It's also the Sydney side of things but that's how finals are played, having played in a few and watched a few over the years," said Shaw, who lined up in 18 finals.
Loading
"Nothing changes. We want to be able to replicate that style of footy as much as we can. That's why Sydney have been so successful. They play that physical brand of footy and they're used to it and that's what we want to achieve."
Almost to a man, North players have noted Shaw's ability to build relationships – a trait evident during his time in Sydney, where he was loved for the care he showed teammates.
"I think it's a huge part of coaching, making sure you have that balance between having that relationship with the players but also making sure you're sticking to your philosophies and understand you have to make decisions that will affect those players as well," Shaw said.
"The balance between that is really important. 'Horse' has got that right for a long period of time.
He's a fantastic mentor, both as a player and coach, really guided a lot of us on the right path on our football journey. I take a lot from John in the way he went about it."
Shaw's allegiances have changed but he says "there's always going to be a part of me that's red and white".
"I'll be forever grateful the opportunities they gave me, both as a footballer but as a person and as a coach," Shaw said. "I could never thank them enough."
Andrew Wu writes on cricket and AFL for The Sydney Morning Herald