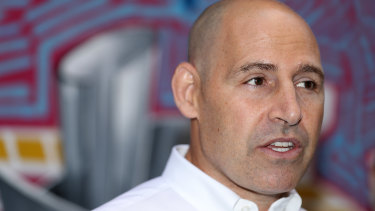 The call to Strauss by a highly reputable figure was not made on behalf of Cricket Australia though, according to a source, senior cricket people in the country are aware it took place.
Yet to hire a recruitment firm to find Roberts' replacement, CA has made it clear it has not, and will not in the immediate future, approach candidates, with the process still some time from starting.
Which means Hockley, the head of the local organising committee for the Twenty20 World Cup, can expect to have months in the hot seat rather than weeks. The Oxford-educated Hockley is no stranger to charting a course through rough waters.
As the head of commercial negotiations for the London Olympics, he helped generate $1.2 billion in corporate revenue – about a third of the Games budget – from 44 sponsors. Not bad seeing he was contending with the global financial crisis.
A capable sportsman, Hockley played rugby for England at student level and once laced up in front of 75,000 fans at Twickenham for Oxford in a Varsity match.
Cricket, however, is Hockley's first love, having grown up around the corner from where former England batsman and administrator Dennis Amiss lived in Edgbaston.
He was there the day Australia and South Africa played out one of the greatest cricket games ever in the tied 1999 World Cup semi-final, wedged between mates from both nations.
His favourite Ashes memories, though, will be jarring for many on these shores: Andrew Flintoff's heroics in 2005, Ian Botham's 1981 miracle at Headingley and Stuart Broad's 8-15 at Trent Bridge in 2015.
For the sake of balance, it is worth noting a framed photograph of the moment the winning runs were hit in the 2015 World Cup adorns the wall of Hockley's study in Sydney, and he was a driving force behind the women's T20 World Cup being a stand-alone event.
That nearly 87,000 fans saw Meg Lanning's team lift the trophy in March is an indication of the tournament's success.
Some in the game saw Roberts' departure as the circuit breaker CA needed after the recent feuds with players and the states, who have been unhappy with the negative noises from Jolimont. There has, however, been a change in tone this week by CA.
Loading
"The problem has been the uncertainty, I actually think we have a lot to be really really thankful for," Hockley, who describes his style as "extremely collaborative" and himself as a "pragmatic optimist", says.
"Cricket in many ways has been extremely fortuitous compared to other sporting codes. It's basically hit in our off-season. I speak a lot to family in the UK, Australia has been extremely, extremely fortunate. I see way more opportunities than problems."
Hockley's second day on the job was the announcement of redundancies. It can only get better from here.
Andrew Wu writes on cricket and AFL for The Sydney Morning Herald