Loading
Premier Mark McGowan needed to come clean about the criteria he was relying upon to make the decision about when to reopen it, Mr Rodwell said.
"We need to know what is it? Is it community transmission? Is it testing? Is it contact tracing? Is it quarantining and social distancing measures?" he said.
If businesses had clarity some jobs could be saved.
Mr Rodwell warned that once JobKeeper stopped around September, WA could see a spike in job losses.
On Thursday new figures showed WA had suffered its worst employment figures in almost a decade, with more than 100,000 jobs wiped out since February.
There were 1.38 million people in jobs before the pandemic hit, but that fell to 1.27 million in May with the current unemployment rate at 8.1 per cent.
Mr Rodwell said it was a "complete fallacy" that WA could rely on a closed economy for any extended period of time. The state depended on international and interstate trade more than others.
He cited the tourism sector, aviation, hospitality and retail as being hit hard but said construction also depended on international student numbers.
"Even in relation to the resources sector, outside of iron ore and gold there are other commodities that aren't doing so well, in addition clearly the oil and gas sector has been heavily impacted by the oil price as a result of this pandemic," he said.
"There are a lot of issues sitting in our economy at the moment that we need to fix, and part of the answer is definitely getting clarity around when this border will open."
As job queues grow, the Premier's position will become increasingly unpopular, Mr Rodwell said.
Mr McGowan has stuck to his commitment to keep the state's border closed, despite pressure from business, the opposition and others to provide the advice he is relying on to continue the closure.
On Thursday Health Minister Roger Cook said the two-week COVID-19 testing blitz on people not showing symptoms across WA found no cases.
This testing had produced further evidence that there were no undetected cases COVID-19 in the community.
Mr McGowan has said that while other states continue to suffer COVID-19 outbreaks he was confident his decision was the right one to protect the community's health.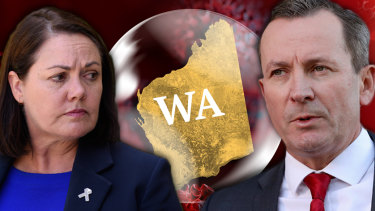 There are currently two active cases of COVID-19 in WA.
Opposition leader Liza Harvey accused Mr McGowan of abandoning the state's record number of unemployed people.
"Yesterday in Parliament the Premier set his sights on the resources companies, demanding more of the 6000 FIFO workers from the eastern states should be moving to Western Australia and that
future jobs should be recruited from WA," Ms Harvey said.
"This follows the embarrassing Australian Bureau of Statistics figures that highlighted Western
Australia has the highest unemployment rate in the country, and the highest number of unemployed
West Australians in the state's history."
She has consistently called for the border to be reopened.
On Thursday Treasurer Ben Wyatt said a second wave of coronavirus would cause a much higher increase in unemployment than keeping the border closed.
But Mr Rodwell said the government's apparent position that there needed to be zero community transmission across the country before reopening the border was very difficult to accept.