Here are some questions from Brisbane Lions coach Chris Fagan's post-match press conference:
Q: Can you sum up that performance for us as best you can?
A: I thought it was a really good four-quarter performance. West Coast came out to play tonight. It was a tough, hard game for the first half and then I just thought we eventually wore them down with our persistence. I thought our willingness to fight to win the contested ball, our willingness to put pressure on them all night long, I think we had, what, 29 forward-half turn overs which is an exceptional number, 20 in the second half. We just kept our work rate all night long and in the end we got rewarded.
Q: Your midfield was brilliant, probably won the game at the end of the day, beat the Eagles midfield which has a lot of stars of its own. What was the direction going into this game. Obviously it is a star-studded clash?
A: I think our midfielders are a good team, they work with and for each other and tonight was no exception. Obviously Lachie Neale played a fantastic game again but Cameron Ellis-Yolmen comes in tonight and was just fantastic around the stoppages. Especially at the centre bounce. So in the
absence of Dayne Zorko he came into the side and stepped up which is really pleasing. Hugh McCluggage was back to his really best football tonight and that was one of the challenges coming into the game. We felt that last week we had too many players that were below par. We probably thought half our group was, and we were fortunate to escape with a win-win. Tonight was a really good all-round team effort.
Q: How long before the game did you know you didn't know you had Dayne. When did you know for sure?
A: He wanted to have as much time as possible because he actually thought he was in better shape this week than he was last week but we made the decision with he and the medical staff this morning that we are better off to try to break the psyche that he is currently in which is hardly train and then playing games. We expect this week he will be able to have a normal week of training and then play next week of training and then play next week. It was a common sense call, I am glad we made it.
Q: Your reaction on the boundary with the last goal, clearly a lot of emotion coming out, how did that feel for you?
A: Tonight, I thought tonight was an important game. West Coast Eagles have a fantastic footy club and they are a really proud footy club and we knew tonight they were going to come out hard. We have seen over this weekend teams that lost last week come out and win this weekend and we just thought tonight would be a good measure of our maturity, then we could actually soak in that pressure that they were going to bring and that effort they were going to bring and come away with a victory. So it is probably the most pleasing thing tonight.
Q: You touched on McCluggage, you thought he was so classy tonight in difficult conditions as well. Do you think he was unlucky to miss out on All-Australian last year. Do you feel like his game is going to another level this year?
A: I think he probably needs to get to a little higher level to be with an All-Australian. That is not really what 'Hughy' plays for. He was really consistent last year but he is in his fourth year now. He is getting stronger, learning more about the game all the time. So hopefully his development continues and somewhere down the track he gets rewarded.
Carlton remain in the dark about their round four opponents
Carlton almost blew a 42-point lead, but they hung for one of the biggest upsets of season 2020!
Geelong ended up winning the disposals 275-249, inside 50s 43-37, clearances 35-27, contested possessions 118-107, tackles 52-49 and scoring shots 22-19, but the Blues managed to somehow survive the barnstorming finish!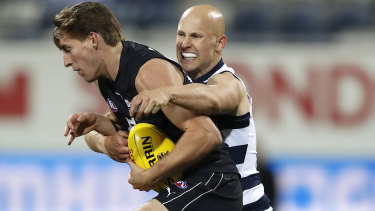 The Brisbane Lions overran West Coast with eight goals to three in the second half and finished up winning the disposals 282-247, clearances 39-33, tackles 56-49, marks 64-47, inside 50s 49-34, contested possessions 133-118, free kicks 20-15 and scoring shots 24-14.
Geelong 1.2, 4.6, 6.7, 11.11 (77)
Carlton 5.3, 9.5, 12.6, 12.7 (79)
GOALS
Geelong: Rohan 2, Hawkins 2, Selwood, C.Guthrie, Stanley, Taylor, Bews, Miers, Atkins
Carlton: Betts 2, McGovern 2, Casboult 2, Murphy 2, Cripps 2, McKay, Gibbons
DISPOSALS
Geelong: Duncan 24, Dangerfield 21, Tuohy 19, C.Guthrie 19, Selwood 18, Narkle 18
Carlton: Cripps 24, Docherty 23, Martin 18, Gibbons 18
Bris.Lions 1.2, 2.6, 7.9, 10.14 (74)
West Coast 2.1, 3.4, 5.4, 6.8 (44)
GOALS
Bris.Lions: J.Berry 3, Neale 2, Starcevich, Cameron, McInerney, McStay, Bailey
West Coast: Ryan 3, Darling, Naitanui, Kennedy
DISPOSALS
Bris.Lions: Neale 32, McCluggage 26, J.Lyons 25, Rich 16, Ellis-Yolmen 16
West Coast: Gaff 30, Kelly 18, Yeo 16
THE SIREN SOUNDS!!
Carlton hang on for a two-point victory after leading by 42 in the third quarter!
Geelong kicked the last five goals of the game, but failed to get the go-ahead six-pointer!
Unbelievable finish!
Betts pings Henry holding the ball in the middle of the ground! That could do it for Carlton!
27 seconds to go!!