"There's probably a shock and frustration when you get to the Saturday afternoon, so well prepared for the next game. The guys had a good training week, they were obviously ready to go to play against Essendon.
Loading
"What we can control is our response afterwards. We were really pleased that within 24 hours we were able to organise a game out here on the MCG, a good hitout with 40 players and our mindset has gone to playing against Geelong, our next opponent."
Mahoney said the intraclub was as close to match simulation as possible, with a number of players who missed out on selection for the Bombers' clash putting their hands up for a recall.
"It was a really intense game; it had to be," Mahoney said.
"We've missed out on playing a fixtured game at the moment, so it's really important to get a competitive hitout.
"The team that shows the most resilience and is able to bounce back from those challenges is going to be the team that comes out on top this year."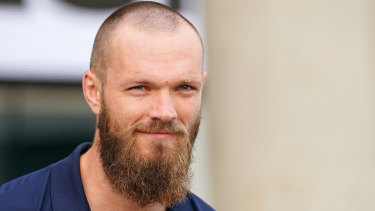 Gawn said he was excited about the prospect of playing a midweek match against the Bombers at some stage this season to make up for the missed game.
"I was very, very frustrated about 4pm yesterday, as were probably 50,000 Melbourne fans and the rest of the players but it is what it is," he said.
Loading
"A lot of competitions around the world play midweek and it's something the AFL will look into and something we'll have to look into for us to play the Bombers at some point. I'm looking forward to potentially testing out some midweek fixtures."
Meanwhile, Carlton remain in the dark as to whether they'll play against Essendon in round four.
It's still to be determined if any other Bombers players who may have come into close contact with McKenna will need to join the Irishman in 14 days of self-quarantine.
"I knew the game had been postponed but other than that I didn't ask for details," Blues coach David Teague said on Saturday night.
"I didn't really care too much. I thought we were going to have our hands full playing Geelong down here so my focus was on that."
Damien Ractliffe is the Chief Racing Reporter for The Age.