"I think it's really unfair on the Essendon Football Club in that sense," Lloyd told Channel Nine, referencing training footage from Friday in which McKenna is close to Saad, Jake Stringer and Zach Merrett, leading to fears they may all be forced to isolate.
"They have made such a great start to the season. You just wonder if another season will be derailed for Essendon in 2020."
The AFL is also fighting a fixturing battle on the western front, desperately seeking permission from the WA government to allow clubs to play during their 14-day isolation period in the state.
WA Premier Mark McGowan upped the ante yesterday by declaring that Victoria's COVID-19 situation was out of control and that the AFL had ''some serious issues'' it needed to manage. The league had been hoping to unveil its next block of fixtures today but that process has been dealt a setback because of WA's intransigence.
With West Coast and Fremantle itching for certainty about when they will return from their Gold Coast hubs, the league has been hopeful about McGowan either opening the WA borders or waving the state's 14-day quarantine period to allow the Eagles and Dockers to play a derby in round six and for two Victorian teams to play a couple of matches each in WA without needing to head into isolation first.
However such permission has not yet been forthcoming. The league is hoping McGowan will grant the league those concessions, otherwise the AFL will need to consider contingencies including keeping the WA teams in Queensland for a longer period, shifting them to Victoria – an idea considered unlikely – or bringing in byes for teams who are in quarantine while in WA.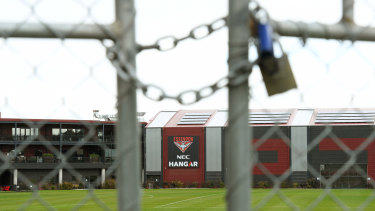 Speaking yesterday, McGowan referred to Victoria's recent spike in cases as a cause for concern, both for the state itself, and the AFL.
''Clearly it's not under control in Victoria. It seems to be spreading into the AFL teams now,'' McGowan said. ''Certainly the AFL has some serious issues as well and they need to get on top of it.
''What's happened to Conor McKenna has been a devastating blow to the AFL. They'll need to make sure that their sport is completely and utterly safe.''
Loading
Because the Queensland, WA and South Australian clubs have been largely playing among themselves in Queensland, Victorian and NSW teams are more logical options for the proposed WA mini-hub.
But the AFL is taking into consideration the fact NSW teams generally travel every second week, making Sydney and Greater Western Sydney less likely candidates to head to Perth. Essendon, Melbourne and Richmond, all of whom will have played one of West Coast or Fremantle in the first five rounds – are also less likely candidates – given it would make sense to send teams who could play both the Eagles and the Dockers.
The WA Premier clarified his position on having a hub in his state.
''If I can just explain that really clearly – the AFL wrote to us at the beginning and suggested a hub in Western Australia, they came up with the idea,'' he said.
''We then went back to them and said, 'yes, we're happy to do that, if it has the appropriate quarantine and safety measures in place'. They then withdrew the offer and then after a lot of consideration and discussion, they ended up with the Gold Coast model. What's going on in Australia is bigger than football and football needs to understand that the health and welfare of our citizens is paramount.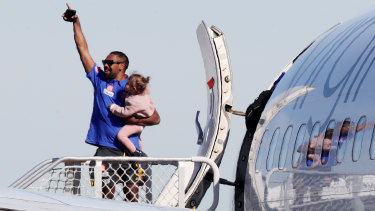 ''We're talking to the AFL. If they'd like to have a hub here on the basis that it's safe and within the appropriate quarantine, we'll obviously entertain that.''
West Coast are floundering in Queensland, losing to both Gold Coast and the Brisbane Lions, with coach Adam Simpson issuing an ultimatum to the league last week.
''Our position is, if we can't quarantine in our own houses when we get back, and [have to] stay in a hotel for another two weeks, we need to get home after Richmond [on July 2],'' Simpson said.
The AFL has insisted since announcing in March that the season would switch to 17 games per club that it would be a stop-start campaign in which flexibility would be paramount.
Daniel is an Age sports reporter