"This is a Gold Coast-style development we feel is inappropriate for the Jervis Bay environment and particularly for the Moona Moona Creek environment.
The residents group held an information session at the site for about 40 people on Sunday, walking through the bush and raising balloons nearly 15 metres to get an idea of the complex's height.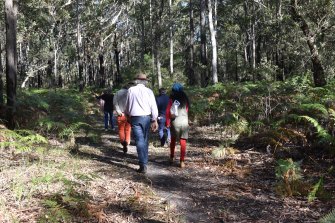 Dr Christen said the vast majority of the site's rough-barked apple, blackbutt and swamp mahogany trees would be razed under the proposal. The developer said some mature trees would be retained.
"The south coast has already gone through the trauma of loss of habitat [in the January bushfires], this is another loss of unburnt bushland," Dr Christen said.
"There's a groundswell of pain and emotion and anger amongst the local community. It's destroying the very thing people come here for."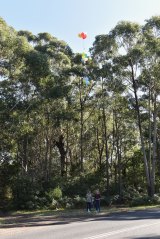 Planning documents submitted to the council describe the site – which is currently zoned for mixed-use – as a "highly sought after tourist location with a paucity of existing commercial development".
"The development will provide high-quality tourist accommodation in a high amenity location within walking distance of several tourist attractions, as well as providing food and drink opportunities for [visitors and residents]," the documents say.
The documents note the parcel of land is in a "high-visibility area" but say that "existing vegetation will screen the development to a reasonable extent when viewed from the public foreshore".
"The proposal will not have any unacceptable detrimental effects on either the built or natural environment and is considered to be within the public interest."
Loading
Jerrinja Local Aboriginal Land Council chief executive Alfred Werrington said in his submission on the proposal that the site was "close to many known [Aboriginal heritage] sites in both Huskisson and Vincentia and cannot be viewed in isolation from the broader cultural landscape".
Dr Christen said the scale of the development "doesn't fit with the village, coastal community" and residents were campaigning for "a scaled-back development that's more in line with eco-tourism".
Meanwhile, residents in the nearby town of Manyana have been fighting to protect a slice of unburnt bushland near Conjola National Park from being flattened for a housing estate of about 180 homes.
Megan Gorrey is the Urban Affairs reporter at The Sydney Morning Herald.