The now long-demolished house, built by her grandfather in the 1850s, was in the family for 100 years.
It was an unremarkable cottage for the area, with the front door opening into the main room, but Marie says: "I used to think it was lovely."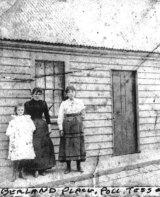 Mr Kelly said Marie's story taught him new aspects of Little Lon, such as its multiculturalism.
The illustrations, by Heather Potter and Mark Jackson, depict the Haddad family from Syria who run a fruit shop, the Maloufs from Lebanon who live over their bootmaking shop, and Chinese furniture makers the Kwongs.
Street vendors sell chestnuts, ice cream and 'turkey lolly', a kind of fairy floss.
Marie goes to a school at the end of her street and washes once a week at the City Baths in Swanston Street.
Kids make whistles from apricot stones, and block gutters to sail toy boats.
Mr Kelly, a former children's book publisher who has studied history and archaeology, found a transcript of a 1990s interview with Marie Owen (nee Hayes), on a Melbourne Museum web page.
The interview was done as some old Little Lon buildngs were being felled for development.
In the 1960s, Mr Kelly remembers visiting friends, including a 12-year-old boy, in a flat near Little Lon.
He remembers his mother being appalled that anyone lived in the CBD.
"Nobody did it. There was nowhere for the children to play, and why would you want to live in the city?" Mr Kelly said.
"It was dirty, dangerous and the city was seen as a place of work."
Mr Kelly said in Marie Hayes' day, Little Lon was "a rough area" but she tells "this gorgeous, warm hearted little story, of where they made their life. The kids weren't going, 'this is a terrible spot'.
"I think it shows children make a life for themselves regardless, and we can jump to conclusions that children don't jump to, that they're perfectly happy to play in the street, with whoever is nearby.
"They don't need for them to be important or rich or prosperous or own a car. They're just happy to be, to exist."
Carolyn Webb is a reporter for The Age.