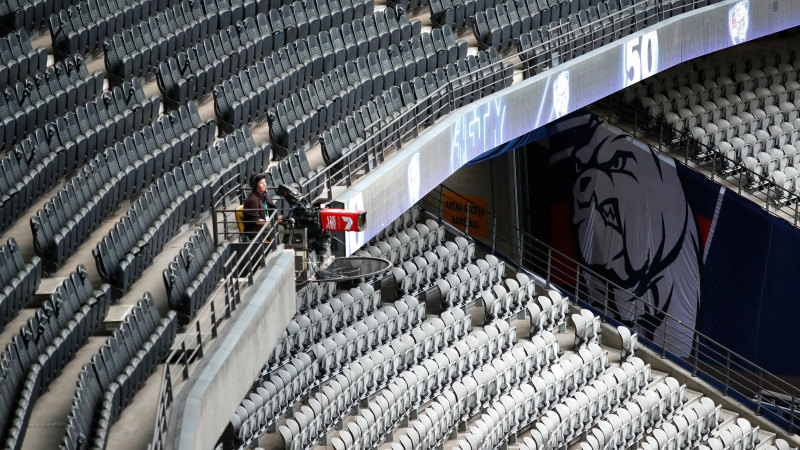 "Will the fans buy this? Because, at the end of the day, the success of sport is driven by fans. That is why broadcasters buy sports media rights.
"One of the challenges right now, and it's probably going to be for most of the season now in Victoria, is that bums on seats is what funds the clubs. If you have no bums on seats, it means therefore the sport itself and its club are totally dependent, especially the Victorian clubs, on what happens at the AFL. This is not a criticism of the AFL. It is just the state of play in this new COVID world."
Sunday afternoon's clash was to have been shown on Channel Seven and would have enjoyed bumper ratings in Melbourne but the free-to-air broadcaster instead had no choice but to take the less appealing match between the Gold Coast Suns and slumping Adelaide Crows.
The match attracted 319,000 viewers nationally, including 243,000 metro, which is relatively healthy given it was not shown in Sydney or Perth. By comparison, the round two clash between Sydney and Essendon in the same slot a week earlier had 621,000 viewers nationally and 445,000 metro when broadcast on Seven across the country.
Foxtel had 178,000 viewers for the live Suns-Crows match compared to a Sunday high of 255,000 for the Bombers-Swans match.
Loading
Essendon players and football department officials remained in isolation on Monday, ahead of the release of further testing results on Tuesday.
In terms of the Demons-Bombers match, network sources point out it could yet benefit Seven and Foxtel because the postponed clash could be staged in primetime on a weeknight.
If the Bombers-Blues clash is postponed, Seven and Fox could seek to have the twilight match between Richmond and St Kilda shifted into prime time. That match is slated to be a Fox Footy exclusive broadcast. The second Saturday night match already scheduled is between Gold Coast and Fremantle, which is also a Fox Footy exclusive broadcast in Melbourne.
Loading
If more matches are cancelled, it would allow Seven and Foxtel to seek a further cut on the reworked broadcast deals completed earlier this month. They pocketed combined savings of an estimated $150 million over the remaining years of this contract, expiring in 2022, because, in part, this season has been slashed from 22 to 17 rounds, game time has been shortened and there have been little or no crowds.
Sponsors – and advertisers – could also seek refunds if more matches are lost. A new pay deal for players would also be impacted by a further cut in broadcast fees.
"The deals they [AFL] have just done, which reflects that [COVID-19 changes], you wouldn't want this to continue going forward because the whole viability of the league is therefore under challenge. I think therefore the AFL has done a really good job with this so far. This is a poison chalice you would rather have avoided," Smith said.
"If it [McKenna case] becomes the norm, it throws the whole season up in the air. If fans lose their engagement, that is a real challenge."
Jon Pierik is cricket writer for The Age. He also covers AFL and has won awards for his cricket and basketball writing.