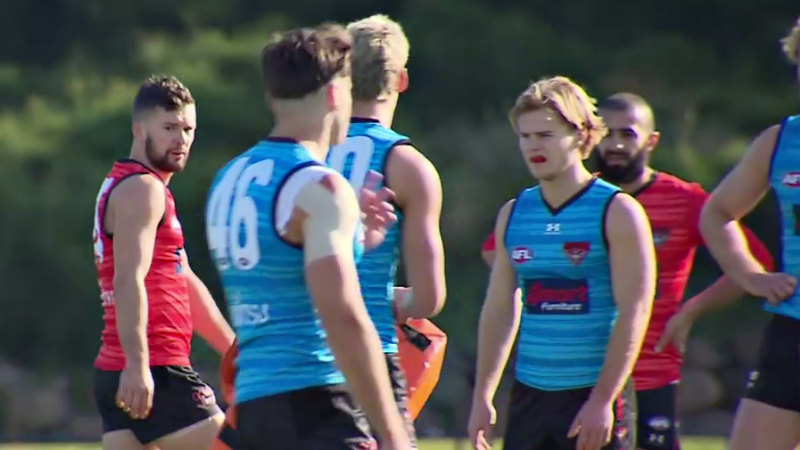 Two other clubs, Essendon and Melbourne, face the prospect of squeezing at least one postponed match into their schedule, and Carlton might make it three.
The Bombers don't know how many, if any, of their list will be available next weekend (this time neither the medication nor the decimation is their fault). No one knows who they will be playing in three weeks time.
With COVID, you're getting three or four unexpected bullets a day. I'm sort of glad I'm not in there.

Andrew Demetriou
And chances of crowds at the footy in Victoria any time soon can be summed up in the name of the device we all are using to watch the game now: remote.
So the question arises: as inequality between clubs increases, and the fixturing nightmare grows, and the pall of the pandemic hangs still, is there a threshold beyond which it is simply not fair to go on?
Graeme Samuel thinks not. "In so many different walks of life, we're all going through extraordinary circumstances at the moment," said the former long-serving AFL commissioner and life member, also for eight years the chairman of the Australian Competition and Consumer Commission.
"Australia through the national cabinet has shown a remarkable ability to adapt to the circumstances. The AFL, unlike some other sporting bodies, have been equally adept in adjusting. The problems, in business and sport, have been where there always has been weak management and weak governance.
"That includes the ability to adapt to changing circumstances. Broadly speaking, the clubs are behaving very professionally and getting it together."
The proof of the pudding was in the eating, said Samuel. The broadcast fee had been discounted, but only slightly, and had been inflated anyway.
Loading
But day-to-day, it can't be easy. "The fact is everyone is in uncharted waters," said Demetriou. "I'm dealing with it at Crown [where he is on the board]. Every day we try to open, it changes.
"We used to say one of the hardest things about working at the AFL was dealing with the unexpected. When it happened, it was how you responded. With COVID, you're getting three or four unexpected bullets a day. I'm sort of glad I'm not in there."
What the AFL has is its own stadium, and time. Ideally, to propitiate broadcasters and minimise mental fatigue for players, the season would be finished by the end of October, when the playing contracts expire anyway.
But – and CEO Gill McLachlan has said this previously – they could play until the end of December.
Loading
Demetriou reiterated that it came down to attitude. "I'm really sympathetic to the guys in the hubs," he said, "but I also try to be objective and say it's not the worst thing in the world."
Already, footballers were dealing with disrupted personal and professional lives, shorter quarters and the eeriness of empty stadiums. One consequence is greater unpredictability: you might have picked Gold Coast or Carlton last weekend, but both?
"It's buyer beware," said Demetriou, known to enjoy a punt himself. "And I think it's going to get more unpredictable. Whichever team copes with COVID and all the uncertainties will be the most successful team this year. I don't think it'll be based purely on the best football team."
Essentially, season 2020 is one long broken play. But what if another case of COVID-19 was to emerge? No one wants even to think about that. No longer would it be a broken play, but possibly a broken game.
Greg Baum is chief sports columnist and associate editor with The Age.