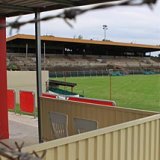 "We received the letter this afternoon from James Johnson, FFA chief executive," Bayside mayor Joe Awada said. "We will go through what's been offered and what the benefits are to the local community. I am happy to talk to Football Federation Australia and keep them it in mind but at this stage it is very early to say."
Bayside Council released a draft masterplan for the redevelopment of the site, which includes the provision for an elite football field and renovation of the existing stadium. Senior FFA sources suggested it is the preferred site for the proposed centre but not the only option available to the organisation.
The venue is regarded as an ideal location due to its historical and symbolic significance and proximity to the city and airport in the game's most popular state.
Should Australia and New Zealand's bid be selected ahead of Colombia in the early hours of Friday morning, FFA's hopes of seeking government funding will receive a significant boost.
As revealed by the Herald on June 5, the organisation will request the NSW government allocate funds previously reserved for the ANZ Stadium renovations to instead build grassroots football facilities, including its permanent home.
Loading
Much like St George Park in England, Clairefontaine in France or Coverciano in Italy, the proposed venue in Sydney will be used for community programs such as Miniroos and multicultural events when it is not being used by national teams.
FFA's home of football in Sydney will be complementary to a women's football facility in Melbourne, which senior FFA sources suggest will be used by the Matildas for games in Victoria.
Meanwhile, Australia and New Zealand will head into Friday morning's vote with no questions around support from their respective governments after the prime ministers of both countries reaffirmed their commitment to the tournament.
Having already pledged a combined $110 million towards hosting the tournament, New Zealand Prime Minister Jacinda Ardern and Australian counterpart Scott Morrison released a joint statement on Tuesday, assuring FIFA's council of federal government support.
"An Australia-New Zealand FIFA Women's World Cup would embody our passion for women's football and proud commitment to equality and fairness, creating a profound and enduring legacy for the future of women's football within the region and beyond," the joint statement read.
Dominic Bossi is a football reporter with The Sydney Morning Herald.