The government will fund an extra 39,000 places by 2023 – an increase of about 6 per cent – as the recession prompts more school leavers to stay on in education (and avoid taking a gap year), but will compensate for this by cutting the amount of its funding per student.
According to calculations by Professor David Peetz, of Griffith University (whose former job as a senior federal bureaucrat helps him find where the bodies are buried), the government will cut its funding by an annual $1883 per student, with the average increase in tuition fees of $675 per student reducing the net loss to universities to $1208 per student. (The fee changes won't apply to existing students, however.)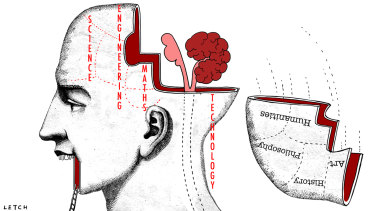 That is, the unis are being asked to do more with less. It's a safe bet their main response will be to further increase their ratio of students to staff. Unis will become even more of a sausage factory – which will be really great for the nation's investment in "human capital".
My guess is that the changes to the structure of tuition fees – with a hodgepodge of big cuts, small cuts, small increases, big increases and no changes – are intended to give the appearance of doing something to increase employment, to gratify the parliamentary Liberal Party's antipathy towards the universities (hotbeds of leftie activists who think Black Lives Matter and have kids who wag school because the silly-billies are worried about climate change) and to divert attention from the way the unis have been short-changed.
With the fee for humanities degrees up by a mere 113 per cent, it's quite a diversion. I'll be diverted only to the extent of quoting from a speech by a Business Council official in 2016: business needed the skills of "critical thinking, synthesis, judgment and an understanding of ethical constructs". The humanities produced people who can "ask the right questions, think for themselves, explain what they think, and turn those ideas into actions".
Ah, maybe that's what the backbench doesn't fancy.
Professor Andrew Norton, of the Australian National University, a recognised expert, doubts that the fee changes will do much to change students' preferences away from courses they think they'd like. And Peetz points out that it's the unis, not the government, that will be bearing the cost of the fee reductions for those courses the government prefers.
Which brings us to Professor Ian Jacobs, boss of UNSW, who points to the perverse incentives the changes will create (assuming the Senate is mad enough to pass them). Unis will be tempted to offer most places in those courses with the widest gap between the high government-set tuition fee and the cost of running the course. They'll be pushing BAs harder than ever.
This, of course, is exactly the way you'd expect the vice-chancellors to behave when you've taken government-owned and regulated agencies, spent 30 years pursuing a bipartisan policy of cutting their federal funding (from 86 per cent to 28 per cent of total receipts, in the case of Sydney University) and pretending they've been privatised.
Loading
Then, after they've turned to getting about a quarter of their funding from overseas students, but the coronavirus obliges you to ban foreign travellers, you hang them out to dry, refusing them access to the JobKeeper wage subsidy scheme because they should never have allowed themselves to become so dependent on a single source of revenue.
For a while I thought the crisis had got Scott Morrison governing for all Australians. It hasn't taken him long to revert to playing friends and enemies.
Ross Gittins is the Herald's economics editor.
Ross Gittins is the Economics Editor of The Sydney Morning Herald.