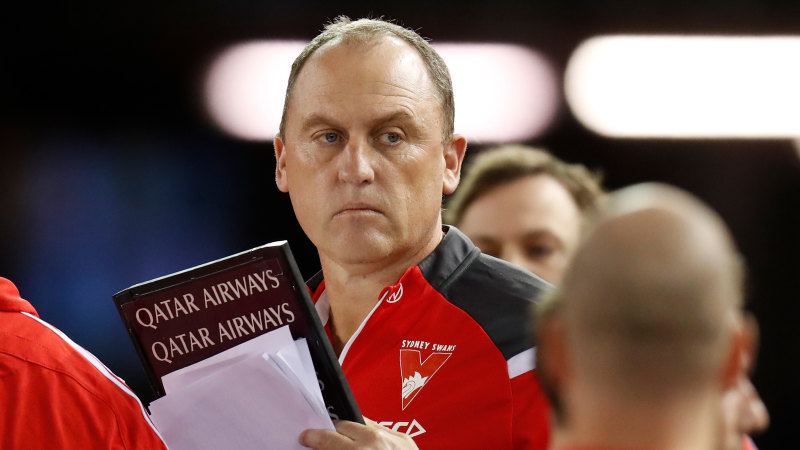 Earlier on Tuesday, NSW Premier Gladys Berejiklian told the state's businesses to not "interact with citizens from Melbourne" because of the sudden spike in coronavirus cases in that city.
As far as anyone knows, at this stage, exemptions are still being granted to AFL teams travelling interstate from Melbourne, like the Bulldogs and Collingwood, who will face the GWS Giants in Sydney on Friday night.
But the circumstances give coaches like Longmire and teams like the Swans little choice but to expect the unexpected, and take things one day at a time.
"Traditionally all of our preparations are out the window … [but] you've got to go in with a really open mind to all of this," Longmire said.
"I think everyone's learning about what we need to do to change and adapt and be flexible and we've had that approach since round one – if we need to change and pivot on the spot, we'll do it.
"At the present time, it's just a matter of getting on with it, and if the change comes through and we get an email that says we've got to adapt to something different, we'll do it.
"The AFL give us all the guidance, we've got very strict protocols, and we're abiding by those protocols. If they change, we change with it … if you can't control things, there's no point worrying about it too much.
"It's what you can actually influence, and we can influence the way we go about it, our reviews and previous training sessions. We concern ourselves with that."
Loading
So far that's working out well for the Swans, who are hopeful of regaining ruckman Sam Naismith (hamstring) for Thursday night's clash with the Bulldogs.
If available, Naismith would allow back-up ruck Callum Sinclair to be used up forward, where Sydney has a shortage of tall timber after Tom McCartin (concussion) joined Sam Reid (calf) and Lance Franklin (hamstring) on the sidelines after copping a knock against North.
McCartin could be available for next weekend's clash with Melbourne but the Swans are treading cautiously, given the 20-year-old's history of head knocks and the issues his brother, former St Kilda forward Paddy, has faced in that department.
"Obviously, for the family, it's in the back of their minds but he was OK after the game, he was OK the next day. He feels pretty good today," Longmire said.
"He's in good spirits, and we'll see how he is for next week … it's hard to say. At this stage we [expect him to be fit], but we'll wait and see. We'll be guided by medical advice. It's a bit, once again, wasting our time to speculate."
Vince is a sports reporter for The Sydney Morning Herald.