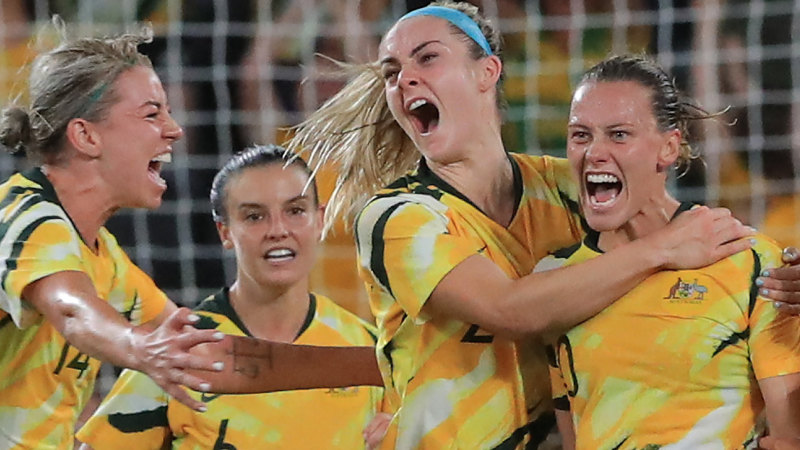 In 1920, the English FA banned women – whose matches had become enormously popular – until the 70s. We all grew up with the idea that watching men play sport was the natural order of things. Unsurprising, men's sport flourished to reap advantages so large that in 100 years of women's progress, we still had not recovered.
Loading
Then came COVID. Never was sport more equal – it all stopped. In theory at least. Somehow, men's sport continued to dominate the media coverage, even when they weren't playing. According to Siren (a women in sport collective that monitors media ratios in conjunction with Swinburne University) found that the share women's sport coverage actually fell from a dreadful 8.4 per cent in April to a diabolical 7.6 per cent in May.
Women have fared little better in the return to play among elite leagues. In Australia, the momentum of women's sport has been interrupted. France 2019, the T20 record crowd, the BBL, and the AFLW are fading memories. The AFL quickly jettisoned the AFLW season, while sparing no expense to get the men back on the field. In England, Matildas Sam Kerr, Caitlin Foord and Hayley Raso should be banging in goals for Chelsea, Arsenal and Everton, but sadly the women's league was cancelled while the EPL is back. FIFPro, the global players' union, called COVID an "almost existential threat" to professional women's football.
The delay of Tokyo 2020 has deprived us of the most gender-balanced major sports event in the world, for at least another year. As we recover from COVID, we have a chance to create a "new normal" that embeds equality into the cultural phenomenon that is Australian sport. But it won't happen on its own.
Sporting bodies, governments and sponsors need to take resolute and principled actions to promote and protect the principle of gender equality. Hosting the FIFA Women's World Cup would give us an iconic event around which we can wrap the actions, targets and incentives to make that happen. It would be a catalyst to drive us towards FFA's goal of 600,000 Australian women and girls playing football by 2027, with better pathways towards the W-League and the Matildas.
Loading
It would give us a platform for strong, capable female athletes – admired for what they can do with a football rather than how they look – to be visible to all our kids, reinforcing respect for women in a country where one in five Australian women has experienced sexual violence.
Australia and NZ would be at the forefront of innovation and interest in the burgeoning growth of women's sports, in a multicultural setting that enables the world to connect and share in that success. FIFA – with public bid evaluation reports and transparent voting – can make a decision that will optimise the value of its second-biggest asset and prioritise the women's game in its own right, not as a piece in some other jigsaw.
Cross your fingers for a post-COVID sports recovery that brings the FIFA Women's World Cup Down Under and heralds a new "roaring 20s" for women's sport. The players, fans and the game itself deserves no less.
Moya Dodd is a former Matilda and a partner at Gilbert + Tobin lawyers. She served on FIFA's executive committee from 2013-2016, and was deputy chair of FIFA's Women's World Cup organising committee in Canada 2015.