Despite people working from home during the COVID-19 pandemic, Atlassian co-founder Scott Farquhar said he was taking a "long-term view" and believed even a company with a highly distributed workforce needed people to come together regularly.
"Buildings have to be a place where they attract your employees to come in, and do their best work, [and] it's a billboard to future employees," he said. "We have an opportunity to be maybe the first building in Sydney built for a distributed workforce in a new way."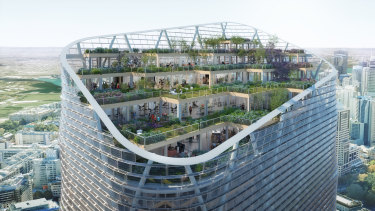 Atlassian plans to take up the majority of the floors in the building, while the rest are likely to be occupied by other tech or start-up companies. It declined to say how much it would cost to build.
Mr Farquhar said it also served as an opportunity to rejuvenate an area of Sydney that was the epicentre of "all of our public transport and kind of the centre of" the city.
Atlassian hired New York architects SHoP to design the tower in partnership with Australian firm BVN. The building will operate on 100 per cent renewable energy and includes solar panels in its facade.
Atlassian's head of global workplace experience, Scott Hazard, said sustainability was a key focus for the tower, which would be built to last 100 years. "Cross-laminated timber is an incredibly green material, and it helps us avoid massive amounts of concrete and steel," he said.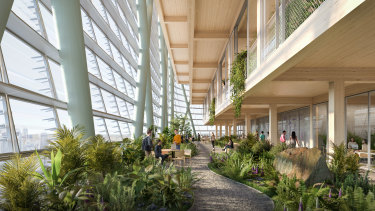 "We are pushing the limits already beyond anything that we know with that material."
The area in which the Atlassian headquarters will be built is to the western edge of the railway and needs to be rezoned to allow for the redevelopment.
At present, the 35-metre high Henry Deane office block is the tallest of the buildings occupying the government-owned land.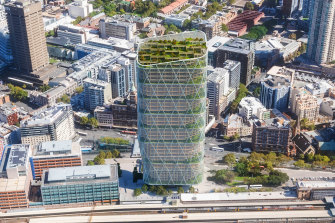 Loading
Property companies Dexus and Frasers Property have also submitted plans for a $2.5 billion twin-tower development for the area under the government's unsolicited proposals process. However, the plan to allow for buildings up to 206 metres high has raised concerns from the National Trust that they will dwarf the landmark Central Station.
Atlassian was the first anchor tenant to sign up to the tech precinct, which the government wants to be able to attract up to 25,000 workers. It is the first stage of a massive redevelopment of the 24-hectare Central precinct, which extends from the railway station to Eveleigh.
The tech giant will lodge development applications for the 40-storey building within months, and plans for construction to start next year.
Get our Morning & Evening Edition newsletters
Matt O'Sullivan is City Editor at The Sydney Morning Herald.