Loading
David Crust, director of park operations in the Blue Mountains, said securing the land in public hands would open the way for the walk to be made more accessible. Visits could rise from about 5,000 a year to as many as 50,000, he said.
The park will be left as a designated "regional park" rather than made a national park to allow locals to continue to walk their dogs in the area.
Aunty Sharyn Halls, a Gundungurra elder, said the name of Ngula Bulgarabang translates to "a very large forest".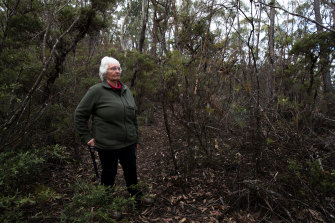 Loading
Ms Halls welcomed the gazetting of the land, saying it was "a big gain for all peoples".
"There's a strong tradition, it's part of our pathways, it's part of our story," Ms Halls said.
NSW Environment Minister Matt Kean said the new park would provide a significant wildlife corridor.
It also contained endangered ecological communities and endangered species including the spotted-tailed quoll, the dwarf mountain pine and greater glider.
"Our native wildlife was decimated during the bushfires, so it's great to add these places to the park system," Mr Kean said. "We also protect and conserve that cultural heritage which is so important."
Mr Kean also paid tribute to the decades of work done by local residents, groups such as the Blue Mountains Conservation Society, and also to local Labor MP Trish Doyle.
The ALP went to the 2019 state election pledging it would seek to buy the Radiata Plateau and convert it to national park estate if they won.
Ms Doyle "is a great champion for the Blue Mountains, and someone [who] plays hard but when it comes to delivering outcomes to communities will put aside politics to work with a Liberal like me to get things done", Mr Kean said.
Mr Kean said the purchase of the Radiata Plateau was "hopefully one of a number of new acquisitions to our national park estate that we will make in this area in the next few months".
Ms Doyle said "it was important for the community to actually see that, across the political divide, people do work together, and they talk…for the benefit of the environment".
Get our Morning & Evening Edition newsletters
Peter Hannam writes on environment issues for The Sydney Morning Herald and The Age.
Most Viewed in Environment
Loading