Scotland's First Minister, Nicola Sturgeon, said the attack was "truly dreadful".
"My thoughts are with everyone involved. I am being updated as the situation becomes clearer," she said.
One man who was in the hotel when the attack unfolded told the BBC he heard "loud screams".
"I was in my room and I heard loud screams from downstairs," said the witness, identified only as John.
"I heard a woman and a man screaming for help, but I could not see from my window on the third floor but a lot of people were staring towards the hotel.
"I got worried and went to check what was going on. When I opened the lift it was all blood. I went down the stairs and the reception was full of blood."
The Scottish Police Federation tweeted: "We appreciate families of police officers in Glasgow will be anxious to hear that a police officer has been stabbed.
"Please be aware the family of the officer has been notified and is being supported by the service."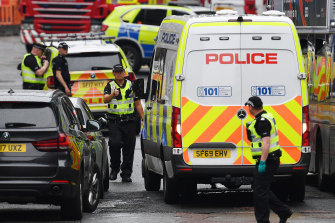 Streets in central Glasgow have been sealed off and heavily armed police are on the scene.
The BBC and other media outlets reported three people had died during the incident, however that has not been confirmed by police. Police have only said that six people – including the police officer – are in hospital "for treatment to their injuries".
In a statement, Scotland Police said the situation was contained "and there is no danger to the general public".
"Armed police officers attended the incident and I can confirm that a male suspect was shot by an armed officer," said assistant chief constable Steve Johnson.
Loading
"I would like to reassure the public that at this time we are not looking for anyone else in relation to this incident. I can also confirm that a police officer was injured while dealing with the incident and that officer is receiving treatment in hospital."
Hotels in Scotland have been closed during the coronavirus crisis, however the Park Inn was believed to be housing migrants at the time of the incident.
Three people were killed and three others injured during a mass stabbing in the English town of Reading last Saturday which police have declared a terrorist incident.
More to come
Bevan Shields is the Europe correspondent for The Sydney Morning Herald and The Age.