Sydney postcodes with below-average rates of testing include Cabramatta, Silverwater and Fairfield, with fewer than five tests per 100 people in each.
Hassan Vally, an epidemiologist and senior lecturer in public health at La Trobe University, said local outbreaks, location-specific pushes for testing, the availability of clinics and affluence are factors that can contribute to higher rates of testing in some areas.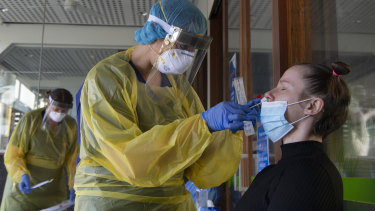 All six of the postcodes with the higher testing rates are in local government areas where the NSW government has encouraged people with symptoms to be tested and Schofields is near Caddens, where the outbreak at Anglicare Newmarch House nursing home occurred.
"That's an obvious driver of people getting tested, outbreaks that have gotten a lot of publicity make people more concerned," Associate Professor Vally said.
"People who are affluent also tend to have more discretionary time and could be more aware of recommendations."
He said different patterns in testing in particular areas over time may reflect growing awareness of the virus and increased access to testing facilities.
The NSW Health data also shows there has been a spike in people aged 19 and under getting tested since the beginning of June, with this group accounting for one-third of all tests conducted in NSW so far this month, up from an average of 11 per cent in previous months.
Professor Gregory Dore, a Kirby Institute at UNSW researcher and St Vincent's Hospital physician, said the increase is likely due to outbreaks of rhinovirus, which causes the common cold, in schools.
"What's happened is kids have gone back to school and there's been a huge increase in rhinovirus infection in the last month or so, so they've gone back to getting the cold and are passing it on to each other and to family members," he said.
There has also been an increase in tests among people aged between 30 and 39 in June. This age group also has the highest overall rate of testing, at 13 tests per 100 people, compared to an average of 10.
Symptoms of the virus are similar to those of COVID-19, likely prompting more parents to take their children to get tested and get tested themselves, Professor Dore said.
Total testing numbers reached an all-time high last Monday, with more than 18,000 tests conducted across the state in one day.
There has been an average of 11,000 tests conducted daily so far in June, compared to 8500 in May and 4600 in April.
Professor Dore said the high testing rate was a key element in NSW's success in controlling the spread of the virus.
"If you're getting more than 10,000 people coming forward for testing every day, even if you have an equivalent number of people with symptoms who aren't getting tested it's likely that anyone with COVID-19 would transmit it to people who are in the testing cohort," he said.
However, Associate Professor Vally said maintaining high rates of testing was important to prevent new outbreaks.
"What we're learning in Victoria is you can't relax, we haven't eliminated the virus and as long as you've got people who have it, it's important to detect them, we have to be testing a lot," he said.
Victoria has a higher testing rate than NSW, having conducted 10,765 tests per 100,000 people since January, compared to NSW's 9700.
Pallavi Singhal is a data journalist at The Sydney Morning Herald