He has fired off a letter to Mark Robinson, chief executive of the New Zealand Rugby Union, threatening to injunct the match, which, according to media reports, has been proposed by former Kiwi rugby league player and boxing promoter, Dean Lonergan.
In his five-point missive to Robinson, Franks concludes: "Also be warned, further attempts by you and or your promoter to damage our brand, will most definitely lead to an application in the Supreme Court for injunctive relief."
Franks also points out: "Hybrid Rugby concept is a registered brand name here in Australia and there in New Zealand and as such, the promoter has no authority from Hybrid Rugby to offer any Hybrid Rugby formation whatsoever without the express consent of Hybrid Rugby."
Franks has also copied the letter to ARLC chair Peter V'landys, although Australia's role in the proposal may be restricted to Kangaroos coach Mal Meninga and his informal talks with his All Blacks counterpart Ian Foster.
Nevertheless, the fiery Franks is incensed at the prospect of a hybrid match being staged without his involvement, telling Robinson,"It has been very disappointing and disturbing to be reading the recent and, may I say, very unprofessional media hype of a Hybrid Rugby game being planned with the All Blacks vs Kangaroos.
"Your organisation together with your spurious promoter have damaged our brand, greatly belittled us with yours and your promoter's false public circus and, as a consequence, are currently seeking legal advice."
Since retiring from playing with his last club, Manly, Franks has been a successful property developer and acquired a layman's knowledge of the law in his frequent battles with councils and competitors.
He began his hybrid journey 15 years ago and has subsequently protected its rules and variations by copyright.
He enlisted two former World Cup winning coaches, the Wallabies Bob Dwyer and the Kangaroos Bob Fulton, to develop the rules and there are multiple endorsements of the game from past champions on the website, hybridrugby.com.
Trial games have been played under hybrid rules as early as 2008 between Queensland's Keebra Park, a prominent rugby league school, and Southport School, a traditional rugby institution.
In 2015, Randwick Rugby Club and Western Suburbs Magpies played a match.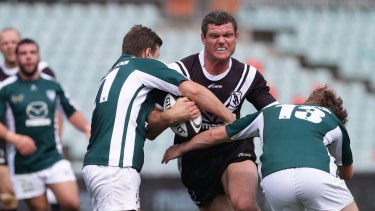 The previous year, a crowd of 3,000 arrived to watch Avalon Bulldogs play Newport Breakers but the game was abandoned after ten minutes, owing to torrential rain, possibly inspired by opposition from residents of "the game they play in heaven".
Ten years ago, Franks formed a partnership with ANZ Stadium to stage a match between the Wallabies and Kangaroos and later, between the Wallabies and a Great Britain rugby league team, but he claims to have met continuing opposition from the NRL.
Franks pointed out to Robinson in his letter that as recently as 2016, he had negotiated with Robinson's predecessor, Steve Tew, to stage a match between the Kangaroos and All Blacks following the 2019 Rugby World Cup.
Loading
The story leaked and, as Franks writes, the NZRU "denied publicly and categorically the meeting ever happened."
He is a man with a short fuse but a long memory.
Roy Masters is a Sports Columnist for The Sydney Morning Herald.