It would involve emulating actress Mena Suvari and being naked on a bed of rose petals, she told them.
There was silence, then Peggy Warren, 84, spoke up: "I'll do it!" and the result is a degree of fame for Mrs Warren — at least in Daylesford.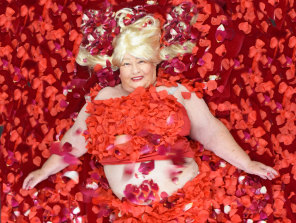 "Peggy's a goer. She's what you'd call a good old stick," says Ms Jones, qualities borne out during the shoot when Mrs Warren lay on her back, wearing underwear, while being showered with rose petals.
Mrs Warren, a great-grandmother, said there were "a lot of onlookers" and she was trying to look serious, "but I laughed so hard I nearly wet myself".
Mrs Warren loves the photo, but feels the same about "everyone in the calendar, they all look so gorgeous".
Hepburn House staff scoured opp shops, junk yards and their own wardrobes to faithfully stage scenes from films such as The Wizard of Oz, Mary Poppins and Risky Business.
A staff member's husband provided a Cadillac for the Grease scene, and a Beaufort dog club member provided four dalmatians for a 101 Dalmatians scene.
Professional photographers Kyle Barnes and David White worked for free.
Ms Jones says the white dress that Dorothy Nock, 98, wore to re-enact Marilyn Monroe's famous 'standing over the subway grate' scene from The Seven Year Itch, was bought for $4 in the Daylesford Vinnies opp shop.
The grate was a drain in front of the home, and for realism, Ms Jones wielded a leaf blower to flare up the dress.
Joy Monssen, 90, who impersonated Liza Minnelli as Sally Bowles in Cabaret, complete with stilettos, bowler hat, and black tights, reckons she got the job because she likes a drink.
"And I've always had good legs."
Ms Monssen said during the shoot, "we were laughing our heads off, it was real good fun".
Loading
Ms Jones said during the pandemic, residents, until a week ago, couldn't go out and visits were restricted.
The calendar stimulated conversation and joy, helping ease the isolation.
"The residents that were in the calendar have all got them in their rooms. And they've gone to all their relatives and friends. It's been great."
The calendar, A Day at the Cinema at Hepburn House, has raised over $3000 for Bendigo Bank's bushfire appeal.
It is on sale for $20 at the Daylesford Bendigo Bank branch and at Daylesford's Terry White Chemmart.
Carolyn Webb is a reporter for The Age.