Peris, a member of that committee, is adamant "athletes shouldn't be made to be silent".
"We're not just jumping on the American bandwagon. We as Aboriginal people still suffer systemic racism in this country," she said. "That's why people took to the streets [for the Black Lives Matter protests].
"As the first torchbearer [before the Sydney Olympics] I ran bare-footed because I wanted to tell the world about Aboriginal Australia but I also wanted to tell the world that there's a history of injustices here. That's why I ran with no shoes on."
While the AOC now has an Indigenous advisory group, chaired by former sprinter Patrick Johnson and including Peris, ex-hurdler Kyle Vander-Kuyp, boxer Brad Hore, former basketballer Danny Morseu and water polo player Nathan Thomas, there has not been an Indigenous presence on its 11-member athletes commission.
It is an elected body comprising athletes from the previous two Olympics such as Cate Campbell and Jessica Fox as well as Oarsome Foursome gold medallist James Tomkins, who sits on it because he a member of the IOC's athletes commission. The subject of having Aboriginal representation on the AOC commission was discussed last Friday when Hooker and Tomkins spoke to members of the Indigenous advisory committee and Peris says it "should be absolutely mandated".
"I can tell you now that a few of us were contacted [about Rule 50] … Steve Hooker, who's on that commission, reached out and said 'how can we support you? What can we say?'" said Peris, who is involved with the AOC in the formation of a reconciliation action plan for the organisation.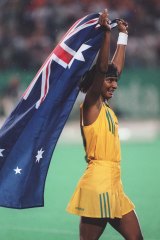 "Well, if you had a black voice on there you wouldn't have to be reaching out and saying 'how do we stand for humanity?'. If you're going to be serious about human equality you need to have a representation of people to have a lived experience of what it means to be looked at through the eyes of inequality."
For the AOC, the addition of a permanent Indigenous commission member may require the seat to sit outside voting, or be voted on separately, but there is an openness at its Circular Quay headquarters to the idea.
Loading
AOC president John Coates, who changed the organisation's constitution in 2015 to recognise Australia's first people, said Hooker had immediately sought the opinion of those on its Indigenous advisory committee as he set out to form an athletes' position on Rule 50.
"You couldn't be more inclusive than that," he said.
Coates awarded the late Norman the AOC's highest honour – the Order of Merit – in 2018 but favours the Olympic podium remaining free of acts of protest.
"Racism is abhorrent to me but I think there is a case for respecting the solemnity of the medal ceremonies," he said.
"I'd like to find some way, and that's the task of the athletes commission, to raise these issues but still respecting the solemnity of the ceremony. But it won't be John Coates who determines what the AOC athletes commission says. It will be them."
Chris Barrett is Chief Sports Reporter of The Sydney Morning Herald.