Hyland confirmed that he had spoken to Cram over the issue but was still waiting to see what level of penalties the stewards wanted to move to.
"We had a little spate of whip breaches, it [the meeting] was more about [them] wanting to propose that they were going to introduce stiffer penalties for whip breaches," he said.
"I think he was going to present those to the board and run them past me and I am waiting to hear whether that is confirmed or not confirmed before I put them to the jockeys' group."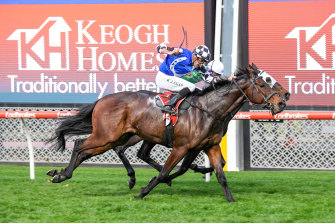 Use of the whip is one of the most vexed questions in racing, especially now that a more vocal public scrutinises anything it believes might be animal cruelty.
Loading
Jockeys are only allowed a maximum number of strikes throughout a race, but routinely riders in all grades breach the rule if they think they can get up in a close finish, banking on the fact that they will not be disqualified even if they might face a fine.
Hyland understands why there are regular calls for disqualification, but says that it is not always as simple as it might appear.
"How do you put a measure on what a strike is worth? Once you set a precedent of upholding protests it can get complicated," he said.
The latest controversial incident came at Casterton at the weekend when jockey Luke Williams was fined $750 and suspended for a month – and sent back to the Riders Skills Panel – after winning a lowly handicap by a nose on a $71 outsider, Nahanni.