"We have to get on with it and man up, so to speak."
The run down
Players have to be at Waratahs headquarters in Daceyville by no later than 10.45am on Friday, more than eight hours before a 7.05pm kick-off.
For players like Michael Hooper who live on the northern beaches, the door-to-door time is even longer. Karmichael Hunt, who has been ruled out of the match due to injury along with halfback Jake Gordon, prop Tom Robertson and centre Lalakai Foketi, would have had to make his way up from the southern highlands.
Temperatures will be checked and the team bus loaded before departing at 11.15am. The team arrives at Sydney airport at 11.30am and players have been told to only bring a small travel bag containing training kit, a spare polo shirt, mouthguard, boots, joggers and casual clothes.
RA has organised a private charter flight for players and staff, which will leave at 12.15pm and land in Brisbane at 2pm.
Once team kit and all other items are taken off, it's onto a 2.30pm bus that arrives at Suncorp Stadium around 2.50pm – still more than four hours before referee Nic Berry blows his whistle to get things underway.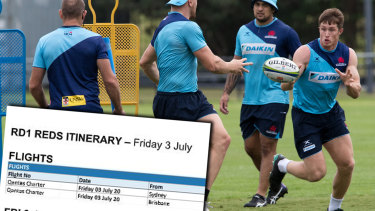 Players then get their temperatures checked once again before they are allowed in the venue's "clean zone" and anyone who records a temperature of over 37.5 degrees won't be allowed to take the field.
NSW will take three spare players – a front-rower, back-rower and most likely a utility back – in case there is any late issues.
At 2.50pm, players will drop off their gear at the change rooms, which will then be properly cleaned before the squad returns later.
Players and staff will set up in a private team room at 3.10pm, have a meal from 3.15pm and relax from there. Naps are optional as the waiting continues. Strapping takes place from 4.20pm.
The changerooms will re-open at 6.05pm and by 7.05pm, Super Rugby AU action kicks off.
It seems everyone is chipping in, with Waratahs boss Paul Doorn explaining his potential extra responsibilities given not every staff member has been given the green light by RA to make their way north.
"I think I'm maybe media manager on the day … bag boy, carrying the camera and I'll try to do some posting for social media," Doorn said.
Give or take 10 or 15 minutes, the Waratahs then have the best part of about an hour after full-time to be on the team bus by 10pm at the latest.
On-field broadcast commitments won't be as time-consuming as normal but Penney and captain Rob Simmons will have to duck off quickly for a press conference – the Reds will go second – to dissect a win or reflect on a loss. Reporters will firing off questions from a safe distance.
By 10.20pm, players will be at Brisbane Airport ready for a 11.30pm flight back to Sydney. It is unclear whether the plane will serve alcohol but one gets the sense the players' thirst will be determined by the scoreline a few hours earlier.
Loading
"It's going to be a long plane ride for any away team coming home from a loss," said NSW prop Harry Johnson-Holmes. "There's no better incentive to win than playing against Queensland."
The flight lands in Sydney at 1.20am and after moving everything onto the team bus, players will arrive back at Daceyville at 2am.
From there, it's a drive home and sleep-ins all round before a well-earned rest day.
Tom Decent is a journalist with The Sydney Morning Herald