"We've got a much stronger competitor now. The NRL, which is the dominant code, is getting stronger. They got the jump on the AFL in terms of getting games back on television. It's a popular sport for people to watch on TV.
Loading
"[It's] not necessarily [about people] going to the [NRL] games, and I think the lens in the southern states tends to be that the way to measure the interest in sport is the number of people that go to the games. It's one measure, but it's not the only measure."
With all of the AFL's expenditure being examined in the wake of the colossal financial hit caused by the coronavirus, Pridham urged head office not to abandon the northern academies which benefit the Swans, Greater Western Sydney, Gold Coast and Brisbane. He said the four clubs, along with the AFL, needed to bandy together to ensure resources are used cleverly and efficiently in the face of financial hemorrhaging across society.
"I think it's a very high priority, because if we don't continue the grassroots development eventually you could become rugby union," he said.
"The amount of media content they command in Sydney, it'd be 10 times what the AFL gets. If left unchecked, it's a big risk. Peter V'landys has really grabbed the imagination of NSW. They're probably going to put another NRL team in Queensland, Brisbane, so they'll have more content there.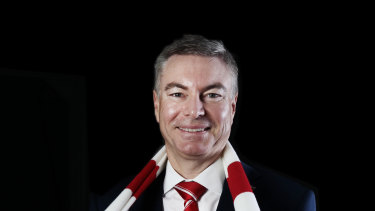 "And this is in a landscape where the four AFL clubs in the northern states aren't particularly financially strong. I think in the AFL, we're all guilty of equating on-field success to off-field success, and it's not the way to look at it.
"What the AFL needs to make sure, and we all need to make sure we do is redouble our efforts in terms of grassroots development, the academies, developing facilities, getting into the media, the promotion of the game, junior development. We've got to keep investing, and that's clearly in a landscape where everybody is trying to reduce expenditure."