China has been developing a growing military presence in the region, including the deployment of long-range ballistic missiles.
Responding to Australia's announcement on Wednesday, China's Foreign Ministry spokesman, Zhao Lijian, said all countries "should avoid military competition and stop purchasing unnecessary military equipment".
Australia's decision to immediately purchase long-range missiles was partly sparked by an increasing awareness that the growing tensions between the US and China meant it could not wait for new attack-class submarines to come online in the 2030s, according to senior government sources.
The new submarines won't start to be delivered until the 2030s, with Australia needing to upgrade its fleet of Collins-class submarines to avoid a capability gap.
While welcoming the government's updated strategy to focus on new defence systems such as long-range missiles, opposition defence spokesman Richard Marles said Labor would be "holding the government to account" on the future submarine program.
Senator Reynolds will say Australia's submarines still underpinned the nation's credibility and influence as a modern military power, but Defence can no longer plan for a decade-long warning period for any major attack against the country, and the threats are more immediate.
In a speech at the Australian Strategic Policy Institute in Canberra, Senator Reynolds will say it is now time to recognise the US-China relationship is "increasingly characterised by competition".
She will say the Indo-Pacific region is facing "the most consequential strategic realignment since the end of World War II".
"Australia has watched closely as China has actively sought greater influence in the Indo-Pacific," Senator Reynolds is expected to say.
"We have supported China where that pursuit advances mutual interests in security, prosperity and stability.
Loading
"However, some of China's actions have deeply unsettled the region. They have not positively contributed to Australia's – or the region's – security and stability. Australia is far from alone in being troubled by this."
Australia has been increasingly concerned about China's growing militarisation in the South China Sea and East China Sea, as well as Beijing's crackdown on democratic rights in Hong Kong, and its border clashes with India.
Senator Reynolds will say Australia's concerns "would come as no surprise to the Chinese government".
"We have been very clear in expressing our concerns – about developments that are inconsistent with international law or may undermine the sovereignty of nations," she will say.
"We do so from a steadfast position – that our values are what define us as a nation. Maintenance of them is not negotiable."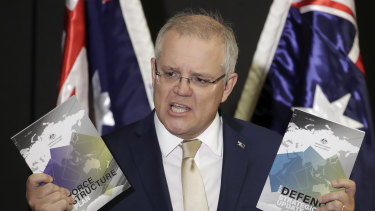 The Defence Minister will say the latest review found Australia's security environment had deteriorated far more rapidly — and in ways that it could not have predicted — four years ago.
"Nations right across the region have now have advanced capabilities such as submarines, next-generation air combat, and highly capable land forces," she will say.
John Blaxland, professor of international security and intelligence studies at the Australian National University, said the new strategy was brought on by not just "increased belligerence" by the Chinese government, but also a growing unease about the US's retreat from leadership in the region.
Loading
"Any adversary, knowing we are only going to buy submarines and fighters, will develop a plan to combat that. That's why we have to develop a suite of options," he said.
Responding to the announcement, the Indonesian government said it shared Australia's concern about growing instability in the region and stressed the need for peace, rather than military conflict, in the South China Sea.
Defence Minister Prabowo Subianto's spokesman, Dahnil Anzar Simanjuntak, said "we understand Australia's concern over the region's stability and the Defence Ministry shares similar concern about it".
ASPI defence program director Michael Shoebridge said he was pleased the new strategy acknowledged the importance of developing a sovereign capability in fuel storage and advanced munitions.
"In times of conflict, all of those missile systems will have to be produce large scales and domestic production will be strategically useful not just to the ADF but to partners as well," he said.
While the new strategy extends the spending commitments in the 2016 White Paper for a further four years to 2030, Prime Minister Scott Morrison on Wednesday committed the government to going beyond its initial promise of lifting military spending to 2 per cent of gross domestic product.
Anthony is foreign affairs and national security correspondent for The Sydney Morning Herald and The Age.