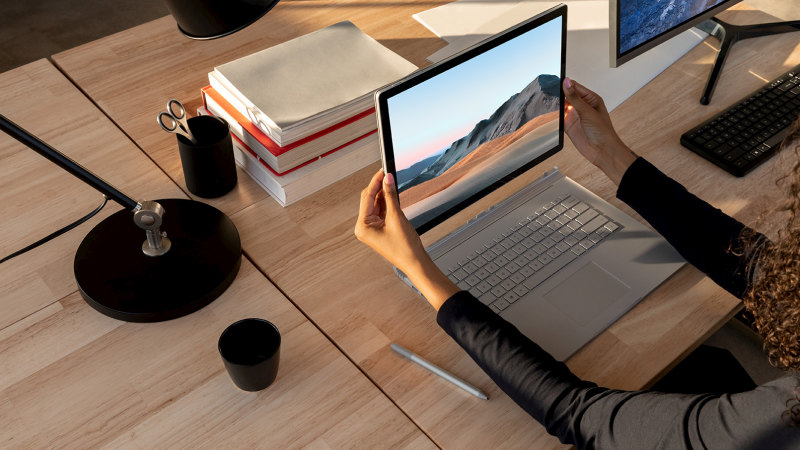 Recently I've been testing Microsoft's 15-inch Surface Book 3, which is a heavy and somewhat dated-looking powerhouse that some might argue is expensive overkill. But it's also extremely good at providing the same premium functionality — and of course all your local files, apps, work and entertainment — across multiple setups with no compromises.
The Surface Book remains the only 2-in-1 laptop I've used that feels like both a solid cohesive laptop — with an excellent full-sized keyboard and touchpad — and a thin and light tablet, thanks to the impossibly complicated but simple-to-use fulcrum hinge that joins the two bits together.
A 15-inch display makes for a very large tablet, so it's best used at a table or when sitting or lounging. It's a stunning display which just falls a little bit short of 4K resolution because of the squarer 3:2 aspect ratio Microsoft uses, and it's perfect for digital newspapers and magazines, sketching or doodling and touch-friendly tabletop games and apps. The 10th Generation Intel processor and up to 32GB of RAM means it's also effectively the fastest Windows tablet you'll find, and there are Full HD cameras front and back for chats and conferences.
When connected to the base (either in standard laptop mode or flipped around to make a standing screen or thick slate PC), you get access to the machine's full capabilities including USB and SD card slots, extra battery and, on the higher-end versions, a powerful dedicated graphics processor.
And of course when paired with USB-C hubs, I was able to tailor the Surface Book to just about any use case I could dream up. In my loungeroom I played Halo with a controller on my TV, and later broke the tablet off so my son could play an educational alphabet game. In my office I connected my microphone, cameras, monitor, printer, keyboard and mouse with the one cable but also used the Surface Book screen as a secondary touch display.
Loading
The Surface Book 3 starts at $2649, but the full experience — including the bigger screen and maximum horse power — will set you back $4439. Thankfully, while I do think the machine is potentially the ultimate Windows device, the proliferation of 360-degree hinges and USB-C means there are plenty of less expensive alternatives for laptops that can play multiple roles around your house.
HP's Spectre x360, Dell's XPS 13 2-in-1 and Asus's ZenBook Flip can each be had for $2000 or less, and while their screens don't detach they do fold all the way around for use as a heavy tablet or secondary touch display. Meanwhile if tablet use and battery life aren't as important to you, and you just want a powerful machine for working or gaming that can move between spaces, there are laptops below $2000 that will fit the bill including Dell's G3, Lenovo's Legion Y545 and MSI's GF63.
On the other hand really advanced setups might require some specialised specs not provided by the Surface Book, such as multiple USB-C connectors (for a lot of high powered gear at once) or ThunderBolt compatibility (for massive transfer speeds).