"It was one of those old-fashioned, muddy games – I hadn't seen mud like this for years. The wetter it is, the tighter and the more confrontational the rugby, and Will really came out on top of that battle. He was absolutely amazing up front in terms of the physical stuff. Every hit he made he turned heads. So he never played colts."
By this stage Harris was already one of the names whispered with a mix of excitement and reverence by people tapped into schoolboy and representative rugby. Huge, rangy, athletic with "beautiful hands" and the kind of love of back row combat that is summoned from within, not taught.
He's tall, very mobile and not afraid of the tough stuff. You don't normally get all three.

Eastern Suburbs coach Pauli Taumoepeau
His appeal spread across two codes. By the time he mowed down anything that moved at Redmond Oval in apocalyptic conditions, Harris had also resisted serious and persistent courting from the Melbourne Storm and other NRL clubs. The Storm flew his family to Melbourne to watch a State of Origin game at the MCG. He also met with Craig Bellamy and Cameron Smith, all in his final year of school.
"The league guys get moving pretty quickly – they go hard at the 15-year-olds and 16-year-olds – and the Melbourne boys were well aware of Will's ability," Brian Smith, Harris' coach at Scots, said.
Harris was attracted to the Storm's fabled culture but, sensing what was at stake, Rugby Australia's head of contracting, Nick Taylor, set up a meeting with the teenager, his mother and then-Wallabies coach Michael Cheika.
Smith believes it was that conversation that allowed rugby to turn Harris' natural affinity for rugby into a NSW contract and, this weekend, a Super Rugby debut at Suncorp Stadium.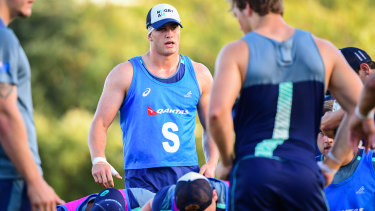 "I think if it wasn't for that move, meeting with Craig Bellamy and Cameron Smith might have turned his head," Smith said. "But to give Cheik his due, he put in the time."
Harris, now 20, will run out in Brisbane on Friday as one of the game's most hyped but least visible next-generation Australian players.
While his Australia under-20s teammates Will Harrison, Mark Nawaqanitawase, Noah Lolesio, Angus Bell, Harry Wilson, Fraser McReight and Isaac Lucas are all now playing Super Rugby, the Waratahs have held back Harris.
Coach Rob Penney said the youngster had some "physical development" goals to meet, while Harris' under-20s coach and NSW assistant Jason Gilmore said a brief illness and surgery on his nose late last year had slowed his start this season.
Loading
Now that his Super Rugby debut is finally here – he relegated capped Wallaby Jack Dempsey to the bench to claim the NSW No.8 jersey – his mentors say the sky is the limit.
Gilmore likened him to a modern version of NSW great Tim Gavin, Taumeopeau said France international Imanol Harinordoquy came to mind, while Smith mentioned Blues and Kangaroos captain Boyd Cordner. If COVID-19 hadn't scuppered this year's under-20s world championship, it's likely Harris would have captained his country.
"He's tall, very mobile and not afraid of the tough stuff," Taumoepeau said. "You don't normally get all three. And then he's got this country vibe: he keeps his head down off the field, and yet on it you know he will put his head anywhere.
"He's definitely not the finished product … But there's no better thing than being thrown in the deep end and learning to compete consistently. The Will Harris we get in 10 weeks' time will be a very different Will Harris to the one we have now, which will be very good."
Georgina Robinson is the chief rugby reporter for The Sydney Morning Herald.