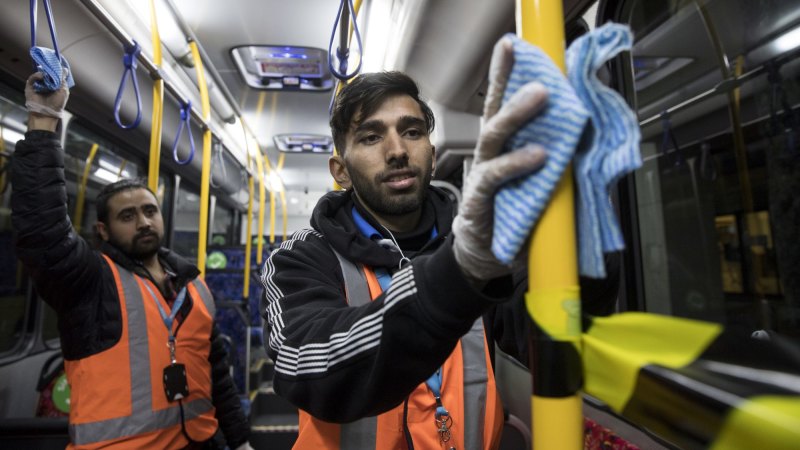 "If we want to be on top of the virus, we must implement preventative measures, especially in areas of high congestion, as we turn to living with the pandemic.
"The RTBU has been advocating for masks from day one. We have pushed for anything that will make members safer, and reduce risks for the travelling public."
While the World Health Organisation (WHO) initially didn't recommend usage of non-medical face coverings, it changed its stance on June 5. The US Centre for Disease Control and Prevention also encouraged usage in public in guidelines issued on April 24.
Ms Grigorovitch, who represents 8000 transport workers, said the WHO's clear position on mask use should be adopted by Victorian officials.
A recent global review of the effectiveness of face masks published in The Lancet medical journal this month found wearing a face mask could reduce the risk of infection by 85 per cent, though the researchers noted there remained a higher amount of uncertainty on mask wearing than physical distancing.
In Victoria, the official advice remains that people only need to wear a mask if they are sick with COVID-19 symptoms, or if looking after someone who may have COVID-19.
Last Friday, Federal Health Minister Greg Hunt did not rule out the prospect of Victoria mandating face masks in infection hotspots and on public transport.
Mr Hunt said there had been "clear growth in community cases" in Victoria, sparking urgent discussions between the Communicable Diseases Network of Australia and the country's medical expert panel, made up of chief health officers in all states and territories, about the effectiveness of face masks.
Professor Mary-Louise McLaws, an epidemiologist at the UNSW and a member of the World Health Organisation COVID-19 Experts Advisory Panel, said now was the time authorities accepted masks were a necessity for people living in hotspots or in situations where they cannot keep physical distancing.
Leading epidemiologist Professor Tony Blakely vehemently supports a push for masks to be worn in highly populated spaces like public transport, at supermarkets and even sporting games in Victoria.
"We're on the edge right now in Victoria and we need to be doing everything we can to turn things around," Professor Blakely, from the University of Melbourne, said last Friday.
Paul is a reporter for The Age.
Melissa Cunningham is The Age's health reporter.