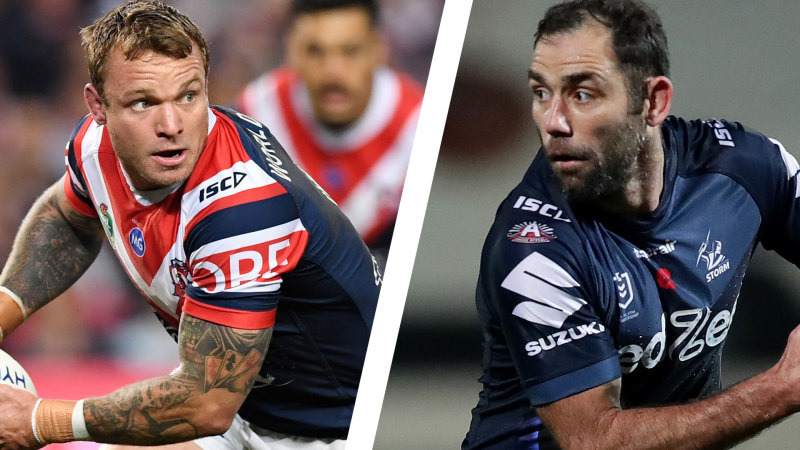 That's all for tonight's blog. Thanks for following along.
I'll leave it to our own Christian Nicolussi to best describe what we just watched. Stay tuned to the SMH Sport page to find his match report and what both coaches had to say post match.
Long live rugby league.
Sport – let alone rugby league – does not get any better than that.
When Josh Morris scored with 10 minutes to play to take a 22-12 lead, this clash looked all over.
But two Melbourne tries in three minutes put Melbourne in front before the manic final 90 seconds in which Kyle Flanagan slotted a match-levelling penalty, Luke Keary put the premiers in front with a field goal and Ryan Papenhuyzen returned serve with the final play of regulation to send us to golden point.
Jake Friend's brain explosion to cost the premiers the match was an unfortunate end to what will be remembered as one of the great games of the modern era.
This blogger has never seen a match like it.
Can we just have these two teams face each other for the last 12 weeks of the regular season?
It's all over.
Jake Friend pushed Dale Finucane over as he tried to play the ball quickly and was penalised.
Cameron Smith has slotted the penalty from directly in front and Melbourne have claimed the two points with a 27-25 win.
What. A. Game.
Boyd Cordner hit his head hard on the Suncorp Stadium turf, stood up and fumbled the ball as he tried to play it.
The Storm now have prime field position. Can they land the final blow with a field goal?
Just to recap.
With 90 seconds to play Kyle Flanagan slotted a penalty goal to take us to 24-all.
With 45 seconds to play Luke Keary slotted a field goal to put the Roosters in front 25-24.
With no time left Ryan Papenhuyen slotted a field goal to send us to golden point.
Yep, I'm exhausted, too.
Scrap that. The Roosters aren't home.
Daniel Tupou drops another high ball, the Storm clean up the crumbs and find Ryan Papenhuyzen.
He slots a field goal with the final play of the to level the score at 25-all.
This. Is. Insane.
Surely, that's the knockout blow.
Luke Keary has slotted a field goal with 45 seconds to play to give the Roosters a 25-24 lead.
He's slotted it.
Kyle Flanagan has levelled the score at 24-all with 90 seconds to play.
James Tedesco has been tackled without the ball.
Kyle Flanagan is lining up a shot at goal with two minutes to play.
He slots it, we are headed to golden point. He misses, it's all but over.
Yep, you read that right.
Another Roosters error – this time an awful high ball drop from Daniel Tupou – has fallen into the bread basket of Jahrome Hughes.
Hughes hit Paul Momirovski and he left Josh Morris clutching at air with a devastating right foot step.
Cameron Smith has slotted the conversion 10 in from the right sideline and Melbourne have their first lead of the night with five to play at 24-22.