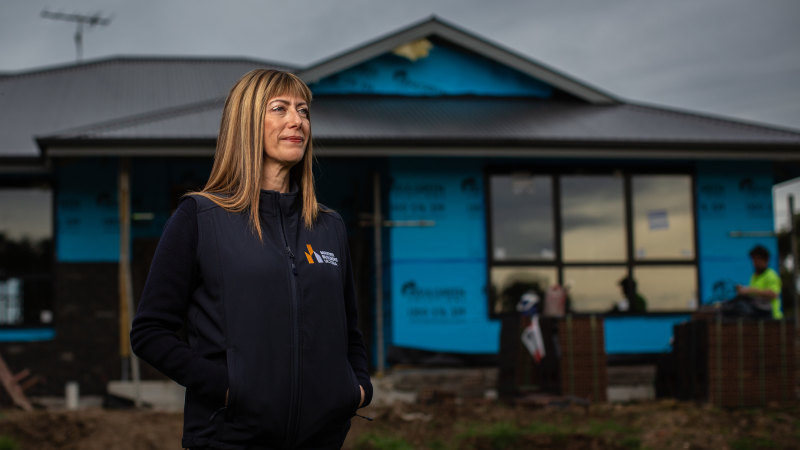 The operation, sparked by a whistleblower's allegations of a cover-up, found the association's president, Richard Hansen, and his predecessor Melanie Fasham were both ineligible to hold the prestigious position when they were elected by a vote of its 15-member council in 2018 and 2016 respectively.
Loading
Accusations that the MBA's former general manager, Leanne Edwards, covered up her bosses' ineligibility for their jobs were referred by the commission to the AFP, which confirmed on Thursday that they would not be pursuing charges because of a lack of evidence.
Mr Hansen, Ms Fasham and Ms Edwards all declined to comment.
The Master Builders had a legal exemption allowing it, and not the Victorian Electoral Commission, to hold its own elections and preventing the ROC from imposing fines for irregularities in ballots held under the exemption.
Loading
But under the weight of the investigation, the association agreed in April to surrender the exemptionm, and its upcoming elections and all subsequent votes will be conducted by the VEC.
The association's chief executive, Rebecca Casson, said she had ordered a thorough review of the organisation's governance procedures and that both the group's rules and its constitution were being updated in line with recommendations from the ROC.
"Master Builders Victoria is committed to implementing any further changes to its processes and procedures to ensure the best possible outcomes for our members and the organisation," Ms Casson said.
The Registered Organisations Commission told The Age that Mr Hansen and Ms Fasham had been elected to their positions unopposed and that Ms Edwards had been referred to police because the commission does not investigate alleged criminal conduct.
"The evidence indicated that in each case the ineligible candidates were apparently elected unopposed, and in the absence of any eligible nominees," a ROC spokesperson said.
"The conduct of one individual, which may have contravened criminal offence provisions in the Fair Work Act 2009, were referred by the Commissioner to the Australian Federal Police."
An AFP spokesman confirmed the force had not found enough evidence to pursue an investigation into Ms Edwards' conduct.
Get our Morning & Evening Edition newsletters
Noel Towell is State Political Editor for The Age