Thanks for joining us tonight for a Friday night doubleheader.
A nervy Raiders staved off a second-half fightback from St George Illawarra to win a bizarre clash 22-16 in the nation's capital in the first match before Maika Sivo bagged four tries in Parramatta's 42-4 belting of the Cowboys at Bankwest Stadium.
Enjoy the rest of your night (but it won't be as good as Sivo's).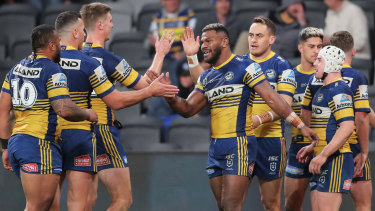 The last time Parramatta led the competition after eight rounds? That would be 1986. It might just be written in the stars. And they have a trip up the highway to take on Newcastle next week.
And if you wanted a quick recap of the night, Sun-Herald columnist Phil Gould has it covered…
After his 100th NRL game, Clint Gutherson is asked by Nine what he thinks when he passes the ball to Maika Sivo: "Try assist. You've just got to throw it to him, especially one-on-one or last tackles." You can say that again.
Sivo wanders around the ground thanking the fans at full-time and that smile is as broad as Church Street. I wonder if the kava is still flowing back in Fiji after they stayed up to watch that.
The Eels are looking more and more like a team destined to finish the regular season in the top four. They're back on top of the ladder outright on 14 points after eight matches with only the one loss against the Roosters.
I suppose one of the only positives for the Cowboys is that Valentine Holmes got through the match in his first game back from an ankle injury. It might be the only positive.
The Eels are back in front of fans at Bankwest with a bang, belting the Cowboys 42-4. Four tries to Maika Sivo, a masterclass from Clint Gutherson and the Eels just keep on keeping on. And they didn't even have Mitchell Moses or Nathan Brown tonight. Serious football team you would have to think.
The Cowboys? Where do they go from here? They've been lapped in their last two visits to Sydney against the Tigers and Eels and now they've got to play the Roosters. It's almost impossible to think they will make the finals off what we've seen so far.
Has there ever been a more underwhelming decision made on a rugby league field? The Eels get a cheap penalty with a couple of minutes left after Josh McGuire is penalised. And Parramatta elect to take the two points. What? Don't they know Maika Sivo is on the brink of a fifth try?
Anyway, Clint Gutherson kicks the goal. It's the easiest kick he's had all night. That two points might be handy in the for-and-against at the end of the year (ahem). It's 42-4 into the final minute now.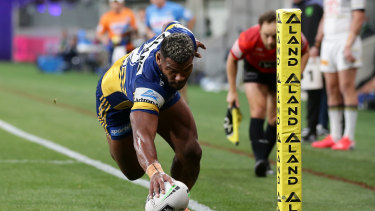 Look, I found a Parramatta try that wasn't scored by Maika Sivo tonight …
That's four!
Maika Sivo is having an absolute picnic. This is the easiest of the lot with Dylan Brown, Shaun Lane and Brad Takairangi combining down the left and the Fijian can literally walk over the line. It's the first time an Eels player has scored a quartet since Semi Radradra, the other Fijian cult hero, did.
Clint Gutherson kicks it from near the sideline … again. The Eels lead 40-4.
There's still six minutes left. Anyong want to take even money on Sivo scoring five?
Into the final 10 minutes at Bankwest Stadium and the limited fans finally allowed back at the footy are going to go home happy tonight after the Raiders won in Canberra and with the Eels about to go clear again at the top of the ladder.
The sting has come out of this one a fair bit it must be said in the last few sets.
Well, if he wanted more tries he's going to get it. Junior Paulo – I still can't believe what his parents were thinking – drops the hip and pops an offload allowing Dylan Brown to find Maika Sivo for his hat-trick.
How do you stop this bloke scoring at Bankwest Stadium? Answer: you can't.
Clint Gutherson is having a lend. His conversion attempt from the sideline – again – fades straight between the posts. He won't give the tee back to Mitchell Moses. It's 34-4 now and we've still got 17 minutes left.
This could be carnage.
I wonder if we're seeing a legitimate premiership contender here? It's been a really tough few weeks for the Eels against some high class opponents and I thought this would be a bit of a test of their mettle without halfback Mitchell Moses, but they've passed with flying colours so far.
What does Brad Arthur want out of this last 20 minutes? Not to concede another try? Run in two or three of their own? No injuries?