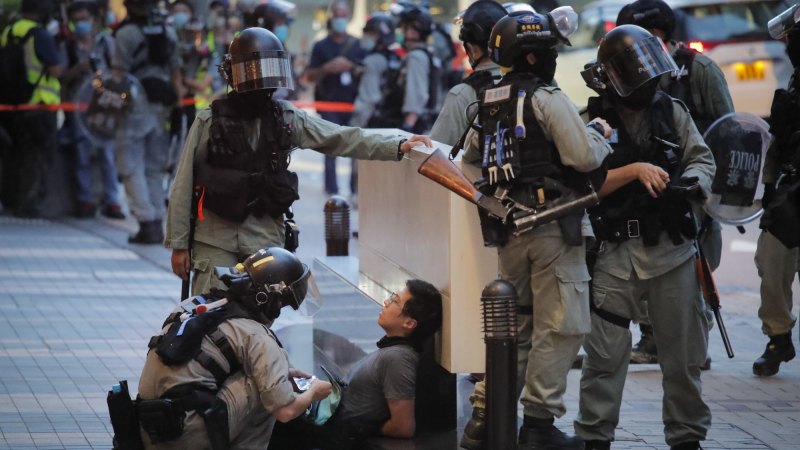 After the enormous democracy protests in Hong Kong last year, it should hardly be surprising that Beijing would use the time when most countries are preoccupied with the twin health and economic crisis brought on by the pandemic to tighten its grip on the region. And Hong Kong is no longer the economic powerhouse it once was for China. In 1997, Hong Kong's GDP was equivalent to 18 per cent of the mainland's and most of China's foreign trade was conducted through Hong Kong. Fast forward to today and Hong Kong's GDP is equal to less than 3 per cent of the mainland's.
Thankfully, Beijing's powerplay has hardly gone unnoticed. Quite the contrary.
British Prime Minister Boris Johnson was quick to condemn the crackdown, offering nearly 3 million Hongkongers who hold British national overseas status the chance to migrate to the United Kingdom. US President Donald Trump described it as a tragedy, while US Secretary of State Mike Pompeo was also talking tough: "The United States will not stand idly by while China swallows Hong Kong into its authoritarian maw."
To his credit, Prime Minister Scott Morrison, fresh from releasing a defence strategy update that clearly highlights China as a future threat, was willing to join the public condemnation over China's crackdown. Following Mr Johnson's lead, Mr Morrison said his government was also considering offering safe-haven visas to Hong Kong citizens.
You would hardly expect China to take it on the chin. A Beijing foreign affairs spokesman was quick to warn Australia against moving down a "wrong path" by following Britain's citizenship proposal. He also trotted out the usual line that "China reaffirms that Hong Kong affairs are purely China's internal affairs and no foreign country has the right to interfere".
Considering there are about 100,000 Australians living and working in Hong Kong, which is the second-largest diaspora for Australians, that is not quite the case.
But China must be happy with the response to its new laws within Hong Kong. On Wednesday, the anniversary of Hong Kong's return to Chinese control – which usually brought out huge pro-democracy marches – a scattered crowd of thousands took to the streets. The police arrested 370 participants, with at least 10 accused of violating the new security bill, including a person caught with a pro-independence flag.
A museum that commemorates the 1989 Tiananmen Square massacre is digitising its archives, afraid its artefacts could be seized. Writers have asked a news site to delete more than 100 articles, anxious that old posts could be used against them. Nathan Law, the face of Hong Kong's democracy movement, has fled, saying on social media that he had left the city for an undisclosed location because he faced "unknown dangers".
Loading
With democracy protesters having to either leave the country or use more clandestine techniques, the weight of responsibility for ensuring that China does not enforce its authoritarian will without some consequence very much falls on other countries willing to stand up to Beijing.
Mr Morrison needs to stay the course. Australia's role in establishing an international investigation into the origins of the pandemic and its public criticism of foreign cyber attacks, most likely from China, have shown an increasing willingness to speak up, despite the economic backlash from Beijing. But no matter what the price Australia may pay, it will seem insignificant compared to the freedoms Hongkongers look almost certain to lose.
Since The Age was first published in 1854, the editorial team has believed it important to express a considered view on the issues of the day for readers, always putting the public interest first. Elsewhere, we strive to cover a diversity of views without endorsing any of them.