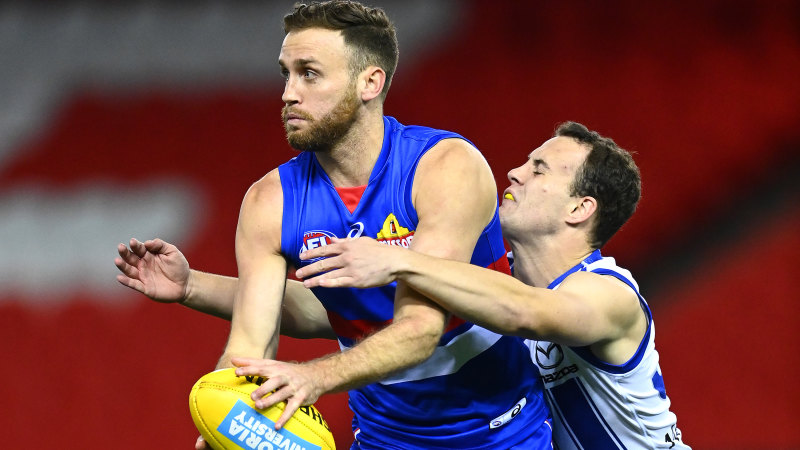 On a day which produced four one-sided contests, it was the Brisbane Lions who made the biggest statement.
Coming up against the previously undefeated Port Adelaide at the Gabba, the Lions flexed their considerable muscle after a tight first quarter, booting eight of the next nine goals to open up a 50-point lead in the third term.
They eventually ran out comfortable 37-point victors and have now won their last four games in a row to move up to second spot on the ladder.
In a year which has seen so many unique circumstances thrust upon teams, and the very real chance of finals not being played in Victoria, the Lions must be liking their premiership chances at this point in time.
Despite the loss, the Power are still in top spot because of their huge percentage.
In the other Saturday night match, the Western Bulldogs blitzed North Melbourne in the second half to record a crushing 49-point victory at Marvel Stadium – their third in a row – to put their season back on track after a slow start.
Josh Bruce was the hero with an equal-career best six goals and the Kangaroos are well and truly back to the drawing board after losing three games on the trot.
In the twilight match, Geelong celebrated Gary Ablett's 350th game and Joel Selwood's 300th game with a comfortable 37-point victory over the gutsy Gold Coast at Kardinia Park.
The Suns pinched the lead early in the third quarter, but they were totally outplayed from that point on and were held scoreless in the final term.
And in the early match, we finally got a sign of life from West Coast who resembled the team most people had challenging for the premiership this year.
The Eagles got off to a slow start, but finished with a wet sail, eventually defeating Sydney by 34 points at Metricon Stadium.
Thank you for joining our rolling coverage of AFL Saturday for round five, join us again next weekend when we do it all over again for a Victoria-free round six.
Luke Beveridge spoke to the media after the game, here's a sample of the press conference…
Q: Seems like the mojo is back.
A: I don't know about back. It's a new thing. Obviously it's a different team. So – yeah, the – full credit to everyone of our players, not just the boys who played tonight. After a pretty auspicious start to the season, the last three weeks have been encouraging.
Q: You said pre-game if Josh Bruce gave you contest and didn't kick any goals… he kicked six. How impressed were you?
A: It's a difficult area to play on the ground. A lot of key defenders in the competition are good players and strong. I think playing against defences as big forwards is hard because they can control you, grab you, impede your run. We feel like he's been working really hard and competing his tail off and tonight he got the rewards. When he had a look and jump he was strong and obviously converted. He got the spoils for the foundations that he's laid. Yeah, I get the public concern and
even intrigue around maybe the fact that an acquisition or a boy who has moved over to a club isn't getting the spoils, but we have been happy with what he's been doing, the way he's worked. He's been really positive for him tonight to be able to get the roses to bloom.
Q: Highest score of the season, you must have been happy how the forward line functioned as a group as well?
A: They grafted a few goals, you know. There were – some of the hit-ups and the boys coming out of the centre and being able to lace, you know, a lead out here and there that always looks – looks good, you know, it's difficult to train too much of that at the moment because of the small groups and the lack of opportunity, but for us to do that was a real positive. Even still, you know, there were some sort of open-field opportunities where we had them on toe and we kicked it straight to them. Still being fussy and forensic about those things. Just want to keep improving. Talked to Ed Richards. He's such a great kick. He had some balls going across the arc he could probably make more of. That's always a positive. Ultimately it's a third week in a row, too, that we've kept an opposition side under 40 points. So, I mentioned after the St Kilda game we needed to make some adjustments with our defence. Not just our back six but what we were doing around the footy and I just think our back six again were just outstanding – back seven – the boys who went through there were just outstanding tonight. Our high defenders and our aerialists and 'Keathy' [Alex Keath] and Zaine [Cordy] down there deeper they were brilliant.
Q: Easton Wood helps coming back tonight, he was pretty good as well.
A: He has a lot of footy left in him. He does. He plays his best footy when he's in the middle of everything. Historically teams have put a bit of time in him with negative forwards. Now it's not just him it's Hayden Crozier and Bailey Williams all helping wherever they can in the air. Yeah, there's some chemistry down there at the moment which is promising for us.
Six-goal hero Josh Bruce spoke to Channel Seven after the game…
Q: Congratulations on your game. Six goals. Thought you combined well with Josh Schache. He played well.
A: Schache was good coming in for his first game. Thought he could have got a couple of free kicks. Provided good contest. Grown his game from last year. Getting bigger and stronger. Good to play my first game with him. He stepped up in the absence of Aaron Naughton.
Q: Licking your chops too 'Brucey', some of the delivery was superb.
A: It was really good this week. Sensational kicks coming in over the top. As a defender you hate the kicks. Obviously when the midfield got ascendancy and got the ball to the outside it was nice to get the hit-ups. Patrick Lipinski was strong and the whole midfield was great. Definitely improvement on the first couple of weeks of the year.
Q: Life moves up to the Gold Coast hub. What are your plans? Have you got family that are going to come with you? What have you put in place?
A: Trying to get my daughter Poppy and my pregnant wife up there with me. Haven't heard any
confirmation yet. I think that should be fine to get them up there. We're looking forward to getting up there and getting out of the Melbourne cold now. It's obviously a different year and going to be challenge in different ways. You see some teams can excel. Look at Port Adelaide. They haven't lost a game. Looking forward to flying up on Monday.
Q: Explain how that works to us. Do you put a request, 'This is who I would like to come with me', and then how does the club handle it?
A: It's a bit of a delicate one I think. Obviously you – it's just based on your individual circumstances. They haven't given everyone full availability to bring their families and stuff. You know it's – everything is changing so quickly. We don't have that information as of yet. I'm kind of rolling with the punches and wait until tomorrow to hear what the go is and fly out Monday. It's all happening pretty quickly. Crazy year this year.
Q: As you said, get up to the Gold Coast in the warm weather. It's chilly in Melbourne. The other positive you will play in front of some fans up there in Queensland which has to be enjoyable. Let's be honest you want to play in front of some public. You will be able to do that in Queensland.
A: That's exactly right. Looking forward to playing in front of the loyal Dogs fans. Haven't played in front of many yet. It's part of the reason you play footy. You love playing in front — playing for the fans and in a full stadium. Whilst it's been good playing in Melbourne looking forward to getting up there and having atmosphere.
Q: You mentioned your daughter Poppy and pregnant wife. We asked you how many weeks, is it a chance you can have a baby born in Queensland?
A: Hopefully not. Anything is possible. 27 weeks pregnant. Still a few months. She's due October 8. Unless really premature. Just be a heavily pregnant wife running around a toddler in a resort. Obviously doing our bit for the game.
North Melbourne coach Rhyce Shaw spoke to the media after the game…
Q: Rhyce, what was most disappointing about that tonight?
A: Probably the most disappointing part was just around the contest. We pride ourselves on that. We're a really tough, contested team. But the Bulldogs were really sharp. They were really impressive around the ball in their ability to get outside of that. Initial contest, win the ball quickly and it's elite and we got shown up.
Q: In the contest area, Cunnington – what was the issue? He finished on the bench.
A: He copped a knock early. Didn't get any better. He wasn't giving us anything from then on in. So I was – it's really disappointing.
Q: Head knock?
A: To his back. Just in one of the contests. And it just wasn't right. So he's obviously had that issue coming in and yeah, just didn't get any better.
Q: How close was it to not playing tonight? Did it go right to the wire? He still looked fairly ginger even in the first few minutes.
A: He was in doubt all week, as we stated early in the week. He got up. We were confident. I made the decision to play him. So, it's the decision to play him. So, it's – yeah, that's where it sits.
Q: Wrong call?
A: Possibly was the wrong call. We were really confident to be honest on all the evidence we were given. We were happy to play him. And going in I was really confident with the way he was going and warmed up really well. Yeah, just what it is.
Q: Twenty-one inside 50s in the first half only two goals. You describe your ball use at half-time as atrocious. How did you see that for the game? You clearly didn't give your forwards much of a chance tonight did you?
A: No. I think it ended up only minus four for inside 50s for the game. So, probably tells a tale but essentially what I stated before around the contest, that's where it was won and lost, really, and they were really slick. They were really clean. And we were just too far away. They got out and made the most of their chances and their forwards took a lot of marks.
Q: Across the year has that been a problem how easily teams score once they enter [forward 50]? Is that something you need to look at?
A: We certainly need to look at a few areas after night. That's certainly one we need to address. I hate going back to it because it's a long time ago, like, the GWS game we looked really sound and really strong and it was a good brand of footy. We're probably just off that at the moment and a number of areas are breaking down because of that. So, I wouldn't suggest it's just one thing. There's a few areas that we need to address.
Q: Can you talk us through the decision to start Higgins at half forward knowing Ziebell was out, Cunnington was a bit hobbled. What was the thinking there?
A: You have Luke McDonald going to Bontempelli, and he did a great job Lukey. To his credit I think 'Bont' didn't have much of an influence until half-time and you have Simpkin and Cunnington in there. 'Higgo' came up the ground and playing infield. We think he's a damaging player no matter where he's placed. We were confident with the way we set it up. Didn't go our way to be honest.
Q: Was it just concussion for Tarryn Thomas was there any other…?
A: I think it was concussion at this point which is disappointing for the kid. He was showing a few signs and, yeah, hurt us in the end.
Luke McDonald was one of North Melbourne's best players and he spoke to Channel Seven after the game…
Q: Luke disappointing loss by the team. Gallant individual effort by yourself. You had to keep Bontempelli quiet. What was your mind set coming in tonight?
A: Super disappointing effort. Wanted to rebound from the last couple of weeks. Go in the hub this week. Excited to be up there together. Personally different role. 'Bont' is a superstar. Good to sort of quell his influence a little bit. We didn't win. That's all that matters at the end of the day.
Q: From the team's perspective the supply is there. The inside 50 ball is there and you are not able to score. What needs to change there?
A: The disposal, [we're] turning way too many over. We have to get it in deeper to give the forwards a chance. Way too sloppy with the disposal. That's the main thing. We know – we want to get back to how we were against the Giants. We know we're not that far off. We know the fans will be frustrated. We have a young side a lot of young players and I'm sure we will turn it around quick.
Q: You had an interesting game day yourself. You had to literally move house this afternoon before heading to Marvel Stadium. Did that provide any interruption to your game prep?
A: About 2:00 got the call up that Kensington was going into lockdown. Packed the bag, the dachshund and staying at my parents' house. All good. It was a bit of a bizarre day. That's what you have to do in these bizarre times.
Q: Hub life is now a reality. You guys are off over the next day or so. Has everybody at the footy club embraced the concept?
A: I think we have everyone going. As I said we're super excited to get up there. We're going to the Goldy [Gold Coast]. Could be worse places to be, we're super excited to get around each other, spend time together. We've barely seen each other the last few weeks. Been in all these little groups. Excited to get up there and get the game going.
Tom Liberatore spoke to Channel Seven after the game…
Q: Everyone hates moving house. It's meant to be the most stressful thing that can happen in your life. You guys have had it thrust upon you. Tell us how it's been?
A: It's been alright. The club gave us the credit card. I went to town really.
Q: Have you upgraded? Where did you move to?
A: Big upgrade.
Q: You are off to the hub. You head off in the morning. Is it tomorrow morning or do you have a day at home and get settled and off on Monday.
A: Off Monday. Get sorted tomorrow and off on Monday.
Q: Great news to see you doing what you do so well tonight and winning contested ball and being around it. You have had a fair bit to deal with in the last couple of years. Was there a time where you thought maybe it was going to go past you and you weren't getting back?
A: I don't think so. The second ACL was difficult. Difficult times during that. Never thought I would give it up or not come back. That drive to come back never died.
Q: The team, it's coincided with you coming back in, the Dogs playing their best footy. What was the turnaround three weeks ago? You look now to be in the sort of form you were in late last year
A: I think we stepped up our pressure. We came better defensive around the ball. We started to grow that, sort of, hunt and determination I guess around the ball. Just that source pressure and then the ability to hit a target going forward improved.
Bulldogs captain Easton Wood spoke with Channel Seven after the game…
Q: Your first game back since the recommencement of the season. Good to be back out there with the boys?
A: Fantastic to be back. Felt like I haven't played for an entire year. First game was — last game was round one. Great energy amongst the group. Proud of them.
Q: In relation to your defensive unit. It seems like you have a good mix going. You have the pressure around the footy, the structure behind the footy and ball movement pushing forward is there as well.
A: It's connected at the moment. You mentioned the defence. I mean, obviously the backs do the heavy lifting defence-wise. It's from the pressure our mids are putting on around the structure around the ball. North Melbourne weren't able to get a clean look running at us tonight. So, that's all the mids' hard work and forwards pressing up. The boys doing well
Q: In the absence of Naugthon and Lloyd how impressive was he [Bruce] tonight?
A: Huge. We know how important Naughton is to the team. The first quarter he played in up against Sydney he was huge. It was really tough to see him go out. He's going to be out for an extended period. For Josh to stand up and you know kick six is amazing. I think Schache coming in as well created a contest and they worked super well together. Everyone was the beneficiary.
They were challenged in the first quarter, but after that the Brisbane Lions showed why they are one of the premiership fancies with a convincing victory over Port Adelaide.
Brisbane ended up winning the disposals 273-262, marks 71-48, inside 50s 48-35, contested possessions 117-105, free kicks 15-12, hitouts 43-29 and scoring shots 25-18.
Brisbane Lions 2.1, 8.6, 11.11, 12.13 (85)
Port Adelaide 1.6, 2.7, 4.10, 6.12 (48)
GOALS
Brisbane Lions: Rayner 2, McCarthy 2, McStay, Hipwood, Cameron, McInerney, Bailey, McCluggage, Robinson, Neale
Port Adelaide: Butters 2, Gray, Rozee, Marshall, Rockliff
DISPOSALS
Brisbane Lions: Neale 29, J.Lyons 27, Rich 20, J.Berry 19, McCluggage 19
Port Adelaide: Boak 25, Houston 21, Butters 18
The Doggies absolutely blitzed the Kangaroos in the second half and finished up winning the disposals 330-265, clearances 29-26, marks 70-61, inside 50s 43-40, contested possessions 121-118 and scoring shots 22-13.