Facing his first electoral test as Opposition leader, Anthony Albanese said the coronavirus pandemic had made for a tough campaign and managed expectations of a Labor victory.
"We know that we haven't been able to doorknock, we haven't been able to have town hall meetings," said Mr Albanese. "It has been a difficult campaign."
Labor frontbencher Kristina Keneally cast the party as the underdog after it was battered by political scandals in Victoria and NSW over branch stacking and allegations of Chinese Communist Party influence, which cost it momentum in the second half of the campaign.
"It polluted the political environment," she told the ABC on Saturday. "You can't disregard that that's going to have an impact."
Loading
Deputy Prime Minister Michael McCormack said he was not sure that a result in the seat – held by Labor on a margin of less than 1 per cent – would be known on Saturday night. "It will be a close call," he said.
A similar margin could see candidates waiting until Sunday or early next week for a clear winner.
Declaring she would work with Monaro state Nationals MP and NSW Deputy Premier John Barilaro if elected, Ms McBain said the region had been hit by "the triple whammy of drought, bushfires, and then the economic impacts of COVID-19".
The former Bega mayor has accused the government of failing to provide enough timely assistance to bushfire-affected areas in the electorate and urged voters to "send the government a message".
Mr Barilaro, the outspoken local state MP who considered running for the federal seat before a public fallout with Nationals leader Michael McCormack, has not ruled out giving it another shot if Liberal candidate Dr Kotvojs fails to snatch the electorate from Labor.
In an admission that is set to spark further tension in the Coalition, Mr Barilaro said on Saturday that he had preferenced his friend, former Labor MP Mike Kelly, ahead of the Liberal candidate at the 2019 election.
"I did vote for Mike Kelly last time after the Nats," Mr Barilaro told Sky News on Saturday. "I vote for the man not necessarily the party."
Despite sharing key policy interests with the Nationals, voters for the Shooters, Fishers and Farmers directed their second preferences to Labor. The vote, which delivered a 6 per cent share for the regional party as of 9:30pm, is likely to be a protest vote against the Nationals and will trigger further recriminations over the party's direction and its leadership. The party has also attracted disaffected rural Labor voters, putting its first preference share almost on par with the Nationals four hours after polls closed.
The electorate, which is the size of Switzerland and spans from Yass to the southern-NSW coast, was a bellwether seat for more than four decades until 2016, falling to the government of the day in each election since 1972.
A redistribution of the seat has also seen more conservative-leaning booths around the ACT added to the electorate, but Queanbeyan, which is home to up to 40 per cent of voters, has historically swung to Labor.
Saturday's byelection was seen as a key litmus test of the federal government's response to the multiple crises that have marked the first half of 2020. A victory for the Coalition would cement government confidence in their plans for a post-coronavirus economic recovery and act as a policy springboard for the next federal election. The last time an opposition lost a seat to a government at a byelection was in 1920.
Mr Albanese is likely to come under some internal pressure if Labor fails to hold onto the seat.
He said on Saturday that a vote-winning margin of 3 per cent could be attributed to the personal popularity of Mr Kelly.
Mr Kelly, who served with the Australian military in East Timor and Iraq, resigned for medical reasons in April.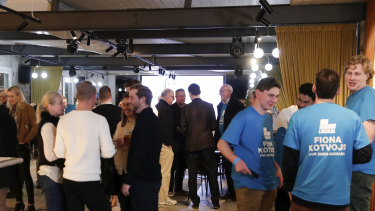 Dr Kotvojs, a farmer with a doctorate in education, has framed her campaign around rebuilding employment in the depleted region through infrastructure boosts and giving voters a voice inside the government.
"After everything we have gone through, particularly after the fires and COVID-19 and the ongoing drought, that is the key thing," Dr Kotvojs said on Saturday.
It is the second byelection in two and a half years to be marred by claims of disinformation: the Wentworth byelection in 2018 was also marked by fake emails that suggested then independent candidate Kerryn Phelps had withdrawn from the race after being diagnosed with HIV.
The Australian Federal Police charged a 32-year-old man on Saturday after he allegedly sent emails purporting to be from the Catholic Church to voters linking Ms McBain to the coronavirus outbreak.
Ms McBain said on Saturday that disinformation was a "blight on our democracy".
"Those things I don't think have a place in politics at all," she said.
Photos of how to vote cards at polling booths on Saturday showed Labor had co-opted Nationals branding and colours to urge Nationals voters to put Ms McBain ahead of the Liberal candidate.
Get our Morning & Evening Edition newsletters
Eryk Bagshaw is the China correspondent for The Sydney Morning Herald and The Age. Due to travel restrictions, he is currently based in Canberra.