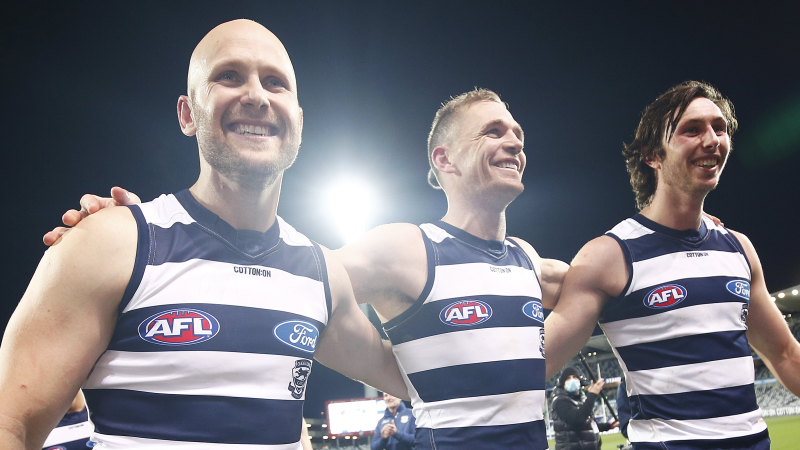 Selwood has played in three flags under former captains Tom Harley and Cameron Ling.
Ablett took delight in his own long goal, coming after Tom Hawkins had offered to help him out to ensure he featured on the scoreboard.
"I hadn't touched the ball much. 'Hawk' had been saying to me for about 10 minutes: 'Mate, if I mark the ball outside 50, just lead back up and I will get you one'," Ablett said.
Ablett then quipped: "When I marked it, I knew I was about, what was it? Sixty-five, 70 metres.
"I wasn't sure if I was going to make the distance but I wasn't passing it. I am just glad it went through."
Loading
While Matt Rowell may have been in an opposition guernsey, even the Cats knew the clash had been soured by what shapes as a serious right shoulder injury to the emerging Suns superstar.
Rowell was hurt in the first term when he looked to cushion his fall to the turf and immediately left the field. He will have scans, most likely in Sydney for the Suns flew north on Saturday night where they will be based as part of the AFL's hub format.
Ablett knows all about serious shoulder injuries, having had his 2014 curtailed when he dislocated his shoulder against Collingwood while playing with the Suns. His injury ended the Suns' hopes of making their finals debut.
Selwood and Ablett have each raved about Rowell, whose toughness and skill in his rookie season had made him third favourite for the Brownlow Medal.
"Obviously, I have had a couple of shoulder reconstructions myself. I asked him how his shoulder was. Obviously, he doesn't know at the moment, he is going to have to have a scan," Ablett said.
"I said to him, once he gets the results, if he wants to give me a call and talk through things, I can let him know what worked for me and what didn't. You just hate seeing injuries like that. As I said, hopefully it's not too bad and we can see him back out on the park in a couple of weeks."
The inconsistent Cats enjoyed successive wins for the first time since round 12 last season, removing what coach Chris Scott said was a "symbolic monkey" off their back. Hawkins, Sam Menegola and Mitch Duncan led the charge.
Suns coach Stuart Dew revealed Rowell had wanted to return to the field after his injury.
"He was trying to go back on. We will get it looked at. He will come with us to NSW and go from there," he said.
"He was coming back on, he wanted to, but it was the right call by our medical department."
The Suns will take 29 players into a hub in Sydney while Scott said the Cats were ready for the challenge which awaited.
Jon Pierik is cricket writer for The Age. He also covers AFL and has won awards for his cricket and basketball writing.