The trip – which was being organised by the Chinese embassy in Canberra – was postponed once Australia started imposing travel restrictions on China on February 1 as the COVID-19 outbreak spread throughout the world.
Loading
The cancellation of the trip came as Australia's relationship with China worsened during the pandemic, with Beijing imposing trade strikes on $1 billion worth of beef and barley after the Morrison government pushed for an independent coronavirus inquiry.
Mr Sharma, who has been a critic of the Chinese government's initial handling of the COVID-19 outbreak, said he still wanted the trip to take place.
"I have always been a believer in dialogue and interaction even when there are points of difference, it is about understanding each other's perspective," Mr Sharma said.
Mr Giles, Labor's assistant immigration and citizenship spokesman and spokesman for multicultural affairs and cities and urban infrastructure, said he was interested in the opportunity "to ask questions, raise concerns and explore policy issues – especially in my portfolio responsibilities of cities and urban infrastructure".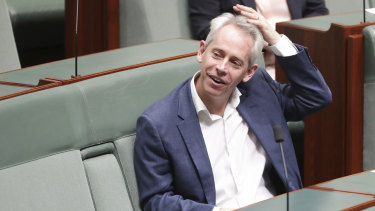 "I had hoped to participate in a bipartisan delegation to China this year, which did not proceed due to the COVID-19 pandemic," he said.
"There is a legitimate discussion about how Australia should engage with China. It's not straightforward and it's getting more complex, but all MPs should seek to be informed."
Ms Martin said the trip was a "bipartisan initiative, which had been postponed because of COVID".
"It's a shame it couldn't go ahead. Visiting and speaking face-to-face is always a worthwhile thing to do for relations," she said.
The Australians were to pay for their own flights to the country, but it was expected the Chinese government would cover on-the-ground costs.
If the trip is rescheduled, it would likely need to take place once Australia's travel restrictions ease.
While tensions between Australia and China have intensified during the pandemic, they have been worsening for a number of years.
Last year two Liberal MPs Andrew Hastie and James Paterson, long-time critics of the Chinese Communist Party, were barred entry into China after they were due to take part in a study tour organised by think tank China Matters.
The pair rejected Beijing's demand they "repent" for their criticism of the CCP, and the trip was then cancelled by the think tank.
Anthony is foreign affairs and national security correspondent for The Sydney Morning Herald and The Age.