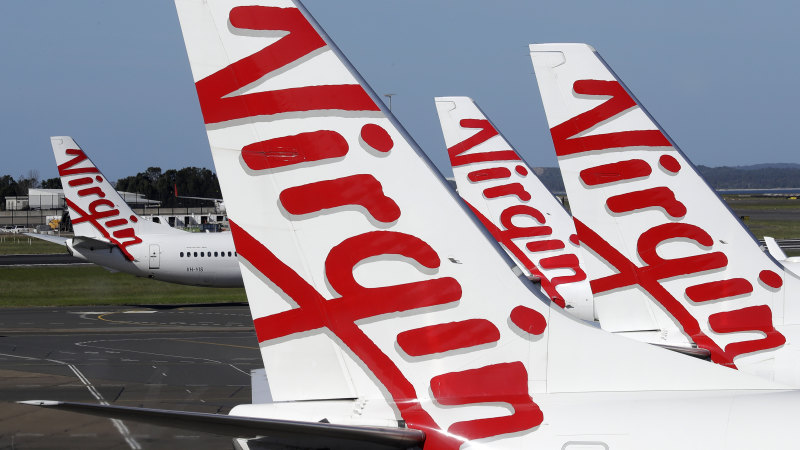 Creditors – which include about 9000 workers, secured bank lenders and aircraft lessors – are owed a combined $6.8 billion.
The bondholders are seeking an interim order forcing Deloitte and Bain to release the terms of the proposed sale, and final orders that would enable the bondholders to submit their plan for Virgin to a creditors' vote.
The Takeovers Panel said it had not decided whether to conduct proceedings on the matter and made no comment "on the merits of the application".
A spokesman for Deloitte said the administrators believed the bondholders' action was "without merit". "They will present information to the Panel as required to refute all claims made by the applicants," he said.
"The administrators have undertaken a process which has resulted in a sale to Bain Capital, and which provides certainty for the future of the airline."
Loading
Bondholders, advised by boutique Sydney firm Faraday Associates and lawyers from Corrs Chambers Westgarth, had proposed swapping their $2 billion in debt for ownership of Virgin. The group said they would pour $925 million into the company in a recapitalisation plan and Virgin would remain listed on the Australian Securities Exchange.
Deloitte, however, rejected the proposal, saying it was too conditional and that there was no evidence of committed funding.
There has been growing unrest among bondholders about how much of their debts they will recover with most believing it will be between 6.5¢ and 10¢ in the dollar, or as little as $130 million of the $2 billion they are owed.
Loading
The total value of the debt owed to the two bondholders behind Monday's application is not known. Virgin's bonds are owned by 30 large institutional investors and about 6000 "mum and dad" retail investors.
The Singapore-based Broad Peak is backed by Singapore's sovereign wealth fund Temasek, which held an interest in Virgin through its majority ownership of Singapore Airlines, which in turn owned 20 per cent of Virgin. Tor is a Hong Kong hedge fund that specialises in high-yield credit.
Transport Workers Union national secretary Michael Kaine said any uncertainty around the sale process was not good for employees.
"Workers don't want the process destabilised by moves which are not in the airline's best interests," he said.
"There are also serious worries about the federal government's continued silence on the process. In this context it is hardly surprising that bondholders are filling the gap of uncertainty and pressing ahead with their interests."
Get our Morning & Evening Edition newsletters
Business reporter at The Age and Sydney Morning Herald.