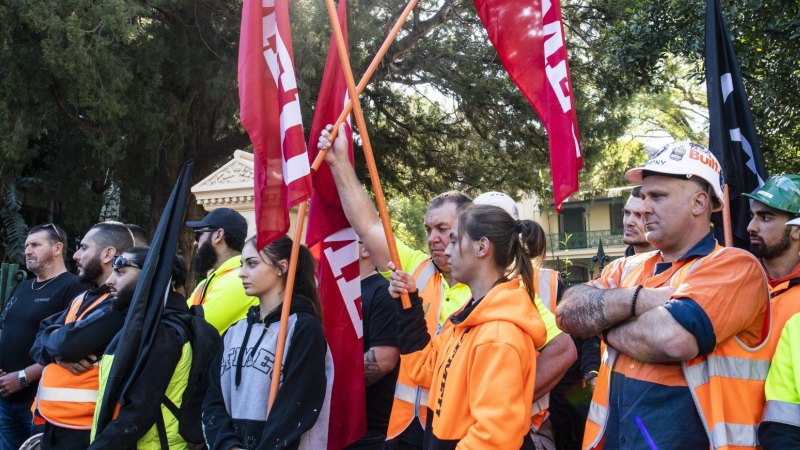 About 40 builders this week met with SafeWork NSW over their claims union officials had been using spurious safety concerns to go onto work sites and pressure contractors to agree to the union's enterprise agreement.
Brian Seidler, the executive director of the NSW Master Builders Association, said the union's campaign was "outrageous" amid a pandemic-driven building downturn. He said it aimed to give construction workers on big jobs total pay increases of up to 25 per cent over two and a half years "without any productivity gains". The national industrial tribunal gave minimum wage workers a modest 1.75 per cent pay increase, equal to $13 a week for full time workers, this year in recognition of the coronavirus pandemic's economic toll.
The CFMMEU deal also provides conditions like a day off every second Monday and a ban on large concrete pours after 11am. That, Mr Seidler said, had "crossed a line" because workers had told the Master Builders that they wanted the flexibility to bank days off and take them when it suited their families rather than "sitting at home when their wives are at work and children are at school".
CFMMEU construction state secretary Darren Greenfield said the Master Builders in NSW were "irrelevant" to the industry. "The union is currently negotiating the terms of the enterprise agreement with relevant NSW employers," Mr Greenfield said.
Mr Seidler has written to Prime Minister Scott Morrison and Premier Gladys Berejiklian over the union's agreement, arguing it will threaten jobs and investment opportunities.
Loading
Attorney-General Christian Porter said the coronavirus pandemic meant unions should not bring their "traditional wish lists of demands" to negotiations. "That is not in the best interests of job growth or any of the workers who need that job growth to occur," said Mr Porter, who is also minister for industrial relations.
A SafeWork spokesman confirmed the meeting with the Master Builders Association and said it would "continue to monitor the situation and respond to any issues as they arise".
Mr Greenfield said the union took safety seriously. "Employers have a responsibility to ensure the safety of their workforce," Mr Greenfield said.
A spokesman for the federal construction watchdog said it was aware of concerns in the industry about the CFMMEU's approach.