"Now that the match review process is complete, I want to speak directly with Addin and the Club about the incidents before determining any penalty.
"This is more than a simple sanction. It's important there is an education and rehabilitation component to issues like this to ensure players learn from these mistakes and realise the impact of their actions on the community."
Fonua-Blake was forced to issue a second apology on Tuesday night following revelations he had also referred to Atkins as a "spastic" in the tunnel after the controversial loss to Newcastle at Brookvale Oval.
The Sea Eagles organised an in-house club interview with Fonua-Blake on Tuesday afternoon, but the forward insists he didn't understand the meaning of the words "spastic" and "retard" when he used them.
"I do now, but at the time I didn't," Fonua-Blake said when asked if he knew the meaning of what he was saying.
"Growing up I used the word differently, not knowing what it actually meant. Now that I know what it means, I'm very apologetic. I do not mean any harm or mean to use it in a derogatory type of way to offend anyone.
"If I have offended anyone, I am very sorry. Anyone with a disability, I do not make fun of disabled people. I offer support to anyone that was offended by my more words and hopefully I can make amends for what I said."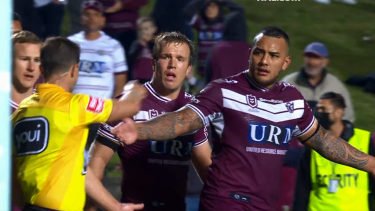 The incident report filed after the game accused Fonua-Blake of saying: "Are your eyes f—ing painted on you bunch of spastics".
Fonua-Blake said he wasn't directing that at the referees. "I remember walking back into the sheds and I forget who was in there already, I was speaking a bit loudly and wasn't aware the refs were in the tunnels," he said.
"They must have heard me say what I said in the sheds. I didn't say it directly to their face. It was me venting out loud in the sheds and they happened to hear it."
Fonua-Blake, a father of four, will be sidelined for two matches after pleading guilty to a grade-three contrary conduct charge, but could be sidelined for a further week.
He will likely miss what is scheduled to be his return game against North Queensland in Townsville after refusing to have a flu shot. Players who refused the shot aren't allowed to travel to Queensland. He may also be hit with an additional punishment following revelations of his second outburst.
He apologised to referee Atkins after the game and has since recognised his actions were unacceptable.
"It was very heated in the moment," Fonua-Blake said. "I sort of acted out within a split second, I think back now and I shouldn't have said what I said. I let my emotions get the best of me. If I could take it back I probably would have. I probably wouldn't have talked to the ref at all. Not much I could have said would have changed his mind. I just wish I didn't say what I said.
Loading
"I don't teach my kids to tease people, let alone kids with disabilities. There's nothing funny about that. That takes me back to moving forward and inform them what certain words mean and what words you can and can't say around people, because the way people take things is different to some others people's views on the word."
Michael Chammas is a sports reporter with The Sydney Morning Herald